Vitiligo of the Penis and Foreskin: Specialists in Treatment in NYC
---
If you have any questions, to schedule a consultation, please contact us or call/text: 1-646-663-5545.
---
What is Vitiligo?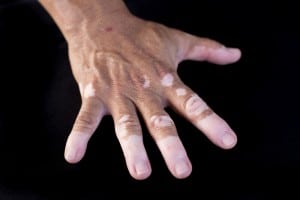 Vitiligo is a skin disorder caused by loss of melanocytes from the epidermis. Vitiligo is a "white skin patch disease". Melanocytes are responsible for skin pigmentation (color). Loss of these cells results in white patches in the affected area, the "Michael Jackson Disease".
Vitiligo affects people with both light and dark skin but is more noticeable in people with dark skin complexion due to color contrast.
Vitiligo is thought to be an auto-immune disorder. Medications to suppress the immune system have been used to treat vitiligo. Vitiligo can affect the skin in any part of the body including hands, arms, face, genital areas including the penis in men and labia in women.
How is Penile Vitiligo Diagnosed?
Penile vitiligo is usually diagnosed by a physical exam. The appearance of penile vitiligo spots usually gives away the diagnosis. Vitiligo of the penis usually appears as penile discoloration on the foreskin, less commonly on the glans of the penis. Penile vitiligo can sometimes appear similar to discoloration patches caused by balanitis xerotica obliterans (BXO) but experienced urologist can usually easily differentiate between BXO and penile vitiligo by the texture of the skin and associated findings (presence of vitiligo on other parts of the body, signs of BXO such as tissue scarring, elevated patches).
How Can Vitiligo on the Penis and Foreskin be Treated?
Vitiligo can be treated with medications, creams, lasers and surgical techniques. Vitiligo can recur after treatment and new lesions can appear in the same or a different location. In some patients who do not respond to medications, circumcision or excision of affected areas can provide an effective treatment option. Often, local skin flaps, a plastic surgery technique is utilized to excise extensive vitiligo.
At New York Urology Specialists we perform complex excisions and reconstruction of penile skin affected by vitiligo using flaps and grafts when necessary. Surgical excision often performed with circumcision is an effective treatment option for vitiligo of the penis that does not respond to medical treatment.
Is Vitiligo of the Penis Dangerous?
Vitiligo of the penis is not a dangerous condition. It is mostly an aesthetic problem with the appearance being the biggest concern to patients. The function of the penis (ability to get erections) and sensitivity are not affected by vitiligo in most cases.
What does Penile Vitiligo Look Like?
Below are some images and pictures of penile vitiligo:
---
What You Need to Know:
Learn More About:
Why Choose New York Urology Specialists for Circumcision and Treatment of Penile Problems?
Scheduling Appointments for Circumcision at New York Urology Specialists
---
If you have any questions, to schedule a consultation, please contact us or call/text: 1-646-663-5545.
We have excellent reviews from patients and their partners.
---
Circumcision With Fast Recovery at New York Urology Specialists

At New York Urology Specialists, our urologists are specially trained in the evaluation and treatment of sexual problems in men. We understand the challenges that penile problems such as pain in the penis, cuts on the foreskin, irritation, and curvature create for our patients, their relationships and their self-esteem. We help you find a treatment for penile problems including appearance concerns, foreskin problems, premature ejaculation, erectile dysfunction that fits your needs, your lifestyle and your preferences.
Urologists are doctors specializing in the treatment of men with sexual problems that include penis problems, scrotal problems, and erectile dysfunction. By the virtue of our experience and skill, we are able to offer an effective treatment option for nearly every man who desires an effective treatment for any problem that affects the penis. We offer medical and surgical treatment for men's sexual problems.
We Treat Some of the Most Complex Penis and Foreskin Problems Including:
Schedule an Appointment with Dr. Shteynshlyuger:
Call/text today: 1-646-663-5211 or make an appointment online
Dr. Alex Shteynshlyuger is a fellowship-trained board-certified urologist with expertise in evaluation and treatment of sexual and erection problems in men using modern effective and proven treatment methods. We offer circumcision, circumcision revision, penile frenuloplasty, penoscrotal web repair, testicular implants, inflatable penile implant, shockwave therapy for ED, and treatment for Peyronie's disease.
He is highly recommended by top primary care physicians in the New York area. If you or someone you know has been experiencing urological symptoms, make an appointment to take advantage of Dr. Shteynshlyuger's expert advice. Please feel free to contact us with any questions.
---
If you have any questions, to schedule a consultation please contact us or call/text: 1-646-663-5545.
We offer affordable, highest-quality urology care with or without insurance. Find out our office hours or directions to our office. We offer weekday, weekend and evening office hours.
This post is also available in: Spanish Russian Chinese (Simplified) French Italian Arabic