Blood in Urine: A Significant Medical Problem.
---
If you have any questions, to schedule a consultation or if you need a second opinion, please contact us or call 646-663-5515
Dr. Alex Shteynshlyuger is a board-certified urologist. He specializes in evaluating women and men with blood in urine. We also offer second and third opinion services for hematuria (blood in urine) and bladder cancer. We care for men and women of all ages in NYC as well as visitors both from neighboring states and international patients.
---
Our Experienced Urologists are Specialists in Treatment of Hematuria in New York City
Blood in urine is a common and worrisome symptom that can occur in men and women. Blood in urine, or hematuria as it is often called by doctors, can be a sign of significant underlying medical and urological problem.
When you are faced with a serious health problem you need a highly trained and experienced urologist. Dr. Shteynshlyuger was trained at some of the top hospitals in the United States for Urology. He is fellowship trained and specializes in treating men and women with blood in urine as well as the underlying causes that sometimes include kidney stones, bladder cancer, kidney cancer as well as prostate problems and prostate cancer in men.
Excellence in Urology Care for Blood in Urine for Men and Women.
Our highly regarded and experienced urologists are experienced surgeons who are Board-Certified in Urology and fellowship trained. They are experienced in treatment of new and recurrent hematuria in men and women of all ages. We treat the most challenging cases including patients with multicystic kidneys, kidney transplants and renal insufficiency. We also care for recurrent hematuria as well as those with prior history of bladder and prostate cancer, radiation induced hemorrhagic cystitis and many other causes of hematuria.
What Causes Blood to Appear in Urine?
Blood can appear in urine as a result of many medical conditions. Because many causes of blood in urine are serious, a full evaluation is necessary. Some of the common causes are:
UTI
Bladder Cancer
Kidney Stones
Enlarged Prostate in Men
Kidney Stones
Kidney Cysts
Kidney cancer
Kidney failure
Bladder Stones
UTI or Bladder Cancer?
The symptoms of UTI and bladder cancer are very similar: frequent urination, urinary urgency and blood in urine. In fact, UTI diagnosis is #1 cause for delayed diagnosis of bladder cancer. The reality is that UTI and bladder cancer may coexist. Bleeding and blood clots in the bladder are a 'treasure-trove' of nutrients for bacteria and may lead to UTI.
Bladder Cancer is an Often Missed Cause of Hematuria in Men and Women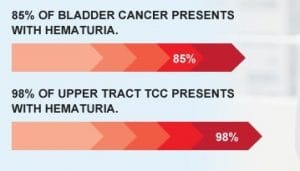 Blood in urine has many causes which cannot be distinguished without further evaluation. Invisible blood in urine "microscopic hematuria" as well as visible blood in urine 'gross hematuria" can be a sign of bladder cancer.
The risk of bladder cancer increases with age, in particular starting at age 40-45. The risk increases with the amount of blood in urine. For example 5-10 RBC/HPF increases the risk. But the risk is higher if >25-50 RBC/HPF are present. Risk of a malignant bladder neoplasm is further increased in men and women with visible blood in urine.
Schedule an Appointment with Dr. Shteynshlyuger:
Call today: (646) 663-5515 or make an appointment online
Dr. Alex Shteynshlyuger is a fellowship trained board certified urologist with expertise in evaluation and treatment of blood in urine in men and women using modern effective and proven treatment methods. He is highly recommended by top primary care physicians in New York area. If you or someone you know has been experiencing urological symptoms, make an appointment to take advantage of Dr. Shteynshlyuger's expert advice. Please feel free to Contact Us with any questions.
Better Science. Better Health
We use proven methodologies for evaluation of hematuria endorsed by the American Urological Association and refined by knowledge of the latest research.
Our advanced equipment including video-cystoscopy enables you to see the bladder as we see it. We also offer convenient minimally invasive in-office bladder biopsy when necessary.
We specialize in evaluation and treatment of blood in urine and related conditions including bladder cancer, prostate cancer and kidney problems.
Our hematuria specialists, board certified in urology are available for consultations for local residents of New York City as well as for international patients.
We are transforming the care for hematuria in New York and nationwide by a concerted effort to improve care for men and women with blood in urine. Studies indicate that as few as 20% of men and women at risk for underlying urological problems get the recommended evaluation for hematuria.

Read about top 5 things to know about blood in urine.
Patient Testimonials – New York Urology Specialists
Dear Dr. Alex: We want to thank you for the excellent care you provided for John during his emergency operation [for blood in urine] and the follow up treatment. Your quiet, confident manner was reassuring to us during a very scary time for us. We will never forget you. John & Sally R. Date: 2013
Dr. Shteynshlyuger has extensive experience treating blood in urine in men and women. He has treated hundreds of patients with hematuria and has performed hundreds of successful diagnostic cystoscopies, biopsies and bladder tumor removal surgeries.
When in need of a initial evaluation, second and third opinions for blood in urine, top physicians refer to New York Urology Specialists. We enjoy meeting challenges. When we meet challenging problems – we solve them.
You can be assured that your most challenging questions will be answered and we will do our best to help you with your urological needs using the latest advances in urology care.
---
If you have any questions, to schedule a consultation or if you need a second opinion, please contact us or call 1 (646) 663-5515
We see patients from all parts of New York City (Manhattan, Brooklyn, Queens, Bronx, Staten Island), Long Island, Westchester and New Jersey as well as other parts of the USA. We also see international patients from Canada, Japan, South America, Russia, Asia, Europe, Middle East, Africa, the Caribbean and other parts of the world.
---
Review
by

Bob Brown

on Nov 19, 2017
I am writing to thank dr. Alex. He is thorough, professional, knowledgeable, helpful and friendly. I have seen him for ED and prostate issues, and he has explained all my options clearly, and found solutions that have been a great help. thank you! I highly recommend both Dr. Alex and his staff, which I find to be helpful, friendly, knowledgeable and very professional. They are a pleasure to deal with and all have been a great help.
Dr visit
by

Clarence Brown

on Sep 14, 2017
I am very much thankful for meeting Dr Alex .I had a very serious medical problem I visited many doctors but none could not help me it was very difficult for me until I visited Dr Alex after a couple visits my medical problem is no more I feel very great also I felt almost 20 years younger Dr Alex is second to none fantastic doctor. Thanks again Dr Alex from my family.
Excellent doctor
by

Michael

on Jul 03, 2014
I am feeling better now after visiting clinic New York urology specialists. Excellent staff and appointment on time.