Kidney Cancer Care in New York City – Evaluation and Treatment of Kidney Cysts, Renal Mass and Kidney Cancer.
---
If you have any questions, to schedule a consultation or if you need a second opinion, please contact us or call 646-663-5515
Dr. Alex Shteynshlyuger  is a board certified urologist in NYC. He is a fellowship Trained Urologist and Robotic Surgeon who specializes in treatment of men and women with kidney cysts, masses, renal cancer and angiomyolipoma (AML).
---
Kidney cysts and kidney masses or lesions are common findings on CT images and MRI images as well as ultrasound tests that are performed for evaluation of such conditions as abdominal and back pain or kidneys.  Many are found incidentally.  While many cysts are simple and benign (non-cancerous), some renal cysts are complex and can be cancerous.  Correct diagnosis might make a difference through early detection of a curable kidney cancer. It may also prevent unnecessary testing and treatment for what may be a benign cyst or lesion. Enhancing renal masses are often cancerous but some can be benign. A correct diagnosis is important to establish through careful evaluation of the mass. When you are in need of a urologist you can trust we welcome you to consider New York Urology Specialists.  We specialize in treating renal masses and kidney cancer.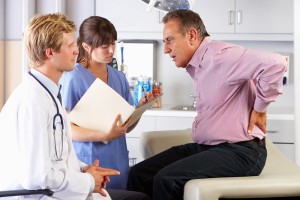 Our highly regarded and experienced urological surgeons are Board-Certified and fellowship trained.
When it comes to treatment of kidney cancer (called renal cell carcinoma (RCC) or renal cancer) – New York Urology Specialists are leading the transformation of care toward more effective, evidence based treatments.  We specialize in offering second and third opinions for patients diagnosed with kidney cancer.
Because we are an independent urological practice the options we offer are not limited by the limitations of any single institution.
We are able to offer a full range of options that best fit the needs of each individual patient.   The goal is always to maximize the chances of cure while minimizing risks and complications while maximizing long-term kidney function.  These options include minimally invasive nephron-sparing robotic partial and radical nephrectomies that provide outstanding cancer control for patients with localized kidney cancer; cryotherapy for patients with small tumors who are not optimal candidates for surgery;  cytoreductive nephrectomy with IVC thrombectomy as well as metastatectomy for patients with advanced and metastatic kidney cancer.
We offer access to proven treatments that include immunotherapy including IL-2 and IFN-alpha, targeted chemotherapy as well as other innovative treatment options and clinical trials.
Better science means better medicine.  We deliver optimal treatment to the right patients one patient at a time.
Dr. Alex is a fellowship trained urologic oncologist, a surgeon who specializes in all aspects of care for early, advanced and metastatic kidney cancer. As one of the few fellowship trained surgeons specializing in treatment of kidney cancer, he is at the forefront of clinical innovation in treatment of kidney cancer.  His goal is preservation of kidney function and long-term oncological control of cancer.
You have many options for your urological care of renal cell carcinoma, complex kidney cysts and kidney mass.  Choosing the right urologist for non-routine care is not easy.    There are times when your health is too important to trust an anonymous name from an insurance company directory.
It is with great pleasure that we welcome you to create a therapeutic partnership with our highly regarded and experienced urological surgeons who specialize in treatment of renal cancer, kidney masses and cysts.
New York Urology Specialists: A New Standard of Care for Patients with Kidney Cancer in New York City.
Symptoms and Treatment of Angiomyolipoma (AML) in New York City by Alex Shteynshlyuger MDIf you have any questions, to schedule a consultation or if you need a second opinion, please contact us or call 1-(646) 663-5515Dr. Alex Shteynshlyuger is a board certified urologist in NYC. He specializes in treatment of men and women with kidney cysts, masses, renal cancer and angiomyolipoma (AML).What is Renal Angiomyolipoma (AML)? Renal Angiomyolipoma or AML is a non-cancerous tumor or
Treatment of Kidney Cancer Dr. Alex Shteynshlyuger is a fellowship Trained Urologist and Robotic Surgeon who specializes in treatment of men and women with kidney masses and kidney cancer.If you have any questions, to schedule a consultation or if you need a second opinion, please contact us or call  1-(646) 663-5515Kidney Cancer Treatment: What You Need to Know Treatment of renal cancer is determined by the tumor size and location, presence of venous thrombus, and
---
If you have any questions, to schedule a consultation or if you need a second opinion, please contact us or call  1-(646) 663-5515
---