Treatment of Erectile Dysfunction after Treatment for Prostate Cancer With Robotic Radical Prostatectomy and Open Surgery.
---
If you have any questions, to schedule a consultation or if you need a second opinion, please contact us or call 1-(646) 663-5211.
---
Erectile Dysfunction is a Frequent Side Effect of Surgical Treatment for Prostate Cancer with Radical Prostatectomy.
Is erectile dysfunction associated with every radical prostate surgery?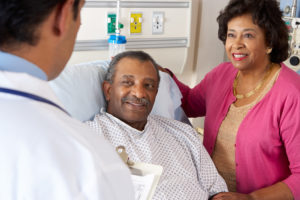 To some degree, ED is associated with every radical prostate surgery. One cannot expect to have as good erections after as before surgery. Patient age and erection quality prior to surgery are the most important factors in predicting erection quality after surgery. Men younger than 45 have the best chance of maintaining their erections after surgery.
Most men who undergo treatment for prostate cancer are over age 50 and many have erection difficulties prior to surgery (erections are not as hard as they used to be, increased difficulty maintaining and getting erections). Many men use medications such as Viagra, Cialis, Levitra and Stendra prior to surgery for prostate cancer. Erections after surgery are rarely as good as before even with medications such as Viagra and Cialis.
Is Erectile Dysfunction after Prostatectomy Permanent?
Many men recover at least some of erectile function after surgery but many require medications to achieve erections. Younger men are more likely to recover sexual function.
It is important to understand that most men will require treatment for erectile dysfunction after radical prostatectomy or radiation therapy for prostate cancer even with nerve-sparing radical prostatectomy. When surgeons quote that they have a high success rate with maintaining erections, it is important to understand that success is often defined as 'ability to obtain erections with medications such as Viagra and Cialis".
Causes of ED after Prostate Removal Surgery for Prostate Cancer
During a radical prostatectomy, the nerves of the penis (cavernous nerves) are often damaged or sometimes removed with cancer. Nerve-sparing radical prostatectomy seeks to preserve as much of the nerves as possible. Most prostate cancer surgeries performed nowadays as 'nerve-sparing' surgeries. In my practice, I perform nerve-sparing procedures for around 90% of my patients.
However, in patients with high-risk, aggressive prostate cancer (Gleason 7-10, high PSA, palpable or hard prostate), it is important to remove all cancer tissue and sometimes that requires removal of cavernous nerves running in nerve bundles around the prostate gland.
Duration of Erectile Dysfunction after Nerve-Sparing Surgery:
Erectile dysfunction usually persists for at least 3-12 months even after a nerve-sparing prostatectomy, whether open or robotic/laparoscopic.
The patient may start to experience spontaneous erections during this period.
It is important to start the treatment for erectile dysfunction as soon as possible. There is no reason to delay treatment as delay can affect patient relationships and self-esteem
Penile Rehabilitation Therapy after Radical Prostatectomy
The penile rehabilitation program has been shown to accelerate recovery of sexual function in men. In general, medications such as Cialis or Viagra or penile injections are used shortly after surgery to recover sexual function. Penile injections with medications such as prostaglandin and Trimix as well as vacuum erection devices have been used as well.
The selection of candidates for nerve-sparing radical prostatectomy surgery is based on many factors:
Tumor location:
If the tumor encroaches on or is in close proximity to the nerves, then erectile function can't be preserved without leaving cancer behind.
Risk of Erection Problems after Robotic Prostatectomy Depends on:
age – the older the patient the more likely he is to experience erectile dysfunction after surgery. This is likely related to an underlying increased risk of vascular disease that occurs as people age. Vascular disease may be subtle enough not to manifest itself in other ways.
diabetes – men with diabetes are at higher risk for erectile dysfunction. The stress of surgery to remove the prostate may tip the balance over and lead to the earlier manifestation of the underlying problems that predispose to ED.
hypertension – erectile dysfunction is a known problem in men with high blood pressure. High blood pressure affects small blood vessels that carry blood to the penis. All men with high blood pressure are at risk of developing erection problems. Prostate cancer treatment tends to accentuate the problem by affecting the nerves in addition to already affected blood vessels.
Coronary Artery Disease (CAD) – heart disease affects blood vessels to the penis the same way the heart vessels are affected.
the baseline quality of erections (can patient obtain erections easily? maintain erections? are erections hard enough?)
the use of PDE-5 inhibitors (sildenafil, vardenafil, etc prior to surgery)
type of surgical procedure
What Treatments are Available for Treatment of Erection Difficulties after Prostate Surgery for Prostate Cancer (Radical Prostatectomy or RALP)?
For many men, treatment of erectile dysfunction should start prior to radical prostatectomy if they experience signs and symptoms of ED.
In general, two types of treatment options are available.
Non-surgical treatments
Surgical treatment
Non Invasive Non-Surgical Treatments of Post Prostatectomy ED:
These are pharmacologically based treatments. The following drugs may be useful (but only in patients in which bilateral nerve-sparing surgery has been done).
Penile Injection Therapy:
An intracavernous injection of prostaglandins or phentolamine is given to aid with obtaining erections. This injection has to be taken every time before intercourse. The success rate is up to 80%. A study established that penile injections improved sexual function after prostatectomy by:
Improving erections
improving satisfaction with the relationship
boosting sexual confidence
Nerve Graft
Sural nerve grafting has been tried in the past with inconsistent results. It is not generally used at the present time.
Surgical Treatment: Effective Treatment of ED with Penile Implant
A penile implant is a good treatment option for men who do not respond to medications such as Levitra, Cialis, and Viagra.
Learn More About:
What You Need to Know:
---
If you have any questions about ED treatment, schedule a consultation, contact us or call 1-(646) 663-5211. We have excellent reviews from patients and their partners.
We offer affordable, highest-quality urology care with or without insurance. Find out our office hours or directions to our office. We offer weekday, weekend and evening office hours.
Dr. Alex Shteynshlyuger is a board-certified urologist, who specializes in all aspects of care for sexual problems in men including ED, premature ejaculation and other sexual concerns. He has successfully treated hundreds of men with sexual problems including ED and poor libido.
---
ED is Treatable in Nearly Every Man

At New York Urology Specialists, our urologists are specially trained in the evaluation and treatment of erectile dysfunction. We understand the challenges that ED creates for our patients, their relationships and their self-esteem. We help you find a treatment for erectile dysfunction that fits your needs, your lifestyle and your preferences.
Urologists are doctors specializing in the treatment of men with erectile dysfunction. By the virtue of our experience and skill, we are able to offer an effective treatment option for nearly every man who desires an effective treatment for ED. We offer medical and surgical treatment for erectile dysfunction.
We treat some of the most complex ED problems including:
Schedule an Appointment with Dr. Shteynshlyuger:
Call/text today: (646) 663-5211 or make an appointment online
Dr. Alex Shteynshlyuger is a fellowship trained board-certified urologist with expertise in evaluation and treatment of urological problems in men and women using modern effective and proven treatment methods. He is highly recommended by top primary care physicians in the New York area. If you or someone you know has been experiencing urological symptoms, make an appointment to take advantage of Dr. Shteynshlyuger's expert advice. Please feel free to contact us with any questions.
This post is also available in: Russian Arabic Chinese (Simplified) Japanese Spanish