Treatment Options for a Renal Angiomyolipoma (not associated with Tuberous Sclerosis Complex)
---
If you have any questions, to schedule a consultation or if you need a second opinion, please contact us or call 1-(646) 663-5515
---
Approach to treatment for patient diagnosed with an angiomyolipoma is determined by multiple factors, including the age, sex of the patient, the size of the angiomyolipoma, the location of angiomyolipoma in the kidney, and the presence of symptoms.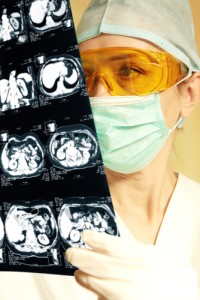 For a small angiomyolipoma less than 1 cm, re-imaging in 6 months is usually advised. It is size is stable and the patient is not pregnant, follow-up imaging at 1 year may be done. Many masses that are smaller than 1 cm are difficult to image adequately due to their small size. The good news is that most masses smaller than 1 cm are not cancerous. Certainly, if there is a question, close follow up is advisable.
For slightly larger angiomyolipoma, 2-3 cm in size, initial imaging at 3 months and then every 6 months for 2 years is reasonable. If AML stays stable in size, reimaging once a year after that is appropriate.
If AML grows and reaches the size of close to 4 cm or greater, a decision about treatment needs to be made. Surgical removal, usually for partial nephrectomy which can often be performed laparoscopically or robotically is an effective treatment option.
For an actively bleeding angiomyolipoma, embolization with delayed surgical treatment is often an optimal approach. Cryoablation is a newer modality when it comes to treatment of angiomyolipoma and may be effective especially for smaller tumors.
Treatment of patients with Tuberous sclerosis-associated angiomyolipoma is somewhat different in approach as they often have multiple and bilateral AMLs which tend to have a higher rate of growth than in patients without TS.
---
If you have any questions, to schedule a consultation or if you need a second opinion, please contact us or call 1-(646) 663-5515
We offer affordable, highest-quality urology care. We offer weekday, weekend and evening office hours.
---