Robotic Surgery for Kidney Cancer
---
If you have any questions, to schedule a consultation or if you need a second opinion, please contact us or call  1-(646) 663-5515
Dr. Alex Shteynshlyuger  is a robotic surgeon. He is a board certified urologist in NYC. He specializes in treatment of men and women with kidney cysts, masses, renal cancer and angiomyolipoma (AML).
---
Treatment of Kidney Cancer Requires 3 things:
Effective cancer control
Preservation of kidney function whenever possible (nephron-preservation)
Safe surgery and good recovery with minimal pain.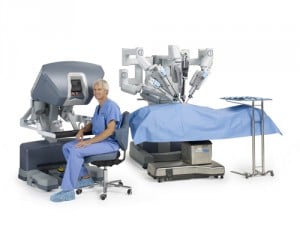 Robotic surgery for kidney cancer delivers all 3 requirements.  Dr. Alex Shteynshlyuger performs robotic partial nephrectomy as well as radical nephrectomy for men and women who require kidney cancer surgery.  He also performs traditional open surgery when necessary for effective cancer control and safety reasons.
In addition, Dr. Alex Shteynshlyuger performs highly advanced surgery for men and women with metastatic kidney cancer including cytoreductive nephrectomy.
---
If you have any questions, to schedule a consultation or if you need a second opinion, please contact us or call  1-(646) 663-5515
---