Top Urologist in NY is Practicing in New York City
New York City is where the action is. Now New York is experiencing a Renaissance and is attracting the crème de la crème of doctors. Dr. Alex Shteynshlyuger chose to open his practice in New York City as opposed to many other fabulous locations that are in need of experienced urology specialists. Dr. Shteynshlyuger has been awarded Top 10 Urologist in NYC award by Vitals.
---
If you have any questions, to schedule a consultation or if you need a second opinion, please contact us or call: (646) 663-4477. We offer affordable, highest-quality urology care with or without insurance. Find out our office hours or directions to our office. We offer weekday, weekend and evening office hours.
---
Innovative Urology Care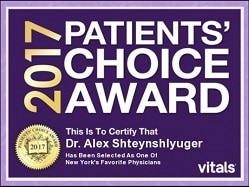 As a nationally recognized urologist who has been recognized by the American Urological Association, his expertise is in high demand. He is board-certified in urology by the American Board of Urology and is recognized by the American Board of Medical Specialties.
He is among the few urologists who are fellowship-trained in minimally invasive urologic oncology and endourology. He uses the latest treatments and technologies that have been scientifically proven to work.
Excellence in Urology Care for Men and Women
Dr. Alex Shteynshlyuger sees patients with a variety of urological problems. He treats men and women in need of specialized urology care. He treats blood in the urine, kidney stones, urinary and bladder problems in men and women. He helps men with prostate problems, BPH, and prostate cancer as well as ED.
As a fellowship-trained urologic oncologist, he is known for his care of bladder cancer, kidney cancer, and prostate cancer. The central location in Manhattan is convenient for patients to get to. A patient can easily reach central Manhattan locations from midtown Manhattan, lower Manhattan, and UES, Staten Island, New Jersey, Long Island, Queens, and the Bronx. "Plus," says Dr. Shteynshlyuger "the great variety of ethnic cuisines" make New York City irresistible. When patients are looking for a top urologist in Brooklyn, Manhattan, Queens and New York City, Dr. Alex Shteynshlyuger shows up for a good reason – his credentials are impeccable. He is truly concerned about his patients well being. He is a "straight shot" and a problem solver.
Better Science Means Better Care.
By focusing on evidence-based medicine, the urologists at New York Urology Specialists deliver high-quality care with fewer side effects. Better science translates into more certainty when it comes to treatment choices and outcomes. Dr. Alex Shteynshlyuger specializes in evaluating blood in urine, bladder cancer, prostate cancer, and prostate problems, kidney cysts, kidney masses, and kidney cancer as well as large kidney stones. He is active in research and publishes extensively.
---
If you have any questions, to schedule a consultation or if you need a second opinion, please contact us or call: (646) 663-4477.
---
This post is also available in: Spanish Russian Chinese (Traditional)