Top Russian-Speaking Urologist in Manhattan and NYC
Dr. Alex Shteynshlyuger is an American-trained urologist who speaks Russian language fluently. He is an honors graduate of Brandeis University and SUNY Downstate Medical School in New York City.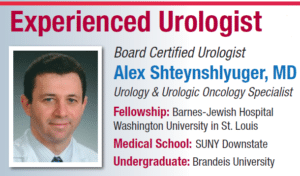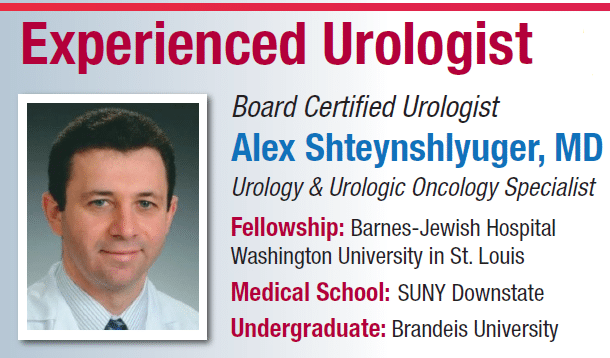 Dr. Shteynshlyuger received advanced fellowship training in Urologic Oncology at the prestigious Washington University in St. Louis and the Barnes-Jewish Hospital, which is ranked among the top Urology hospitals in the US.
Dr. Alex Shteynshlyuger is among a select group of experts in treating urinary problems in men and women. He specializes in treating kidney cancer, bladder cancer, and prostate cancer; he also treats complex non-cancerous conditions that require his expertise including recurring kidney stones, blood in urine, erectile dysfunction and enlarged prostate.
With offices conveniently located in midtown Manhattan and close to public transportation, the offices are easy to reach from any part of Manhattan, Queens, Bronx, Brooklyn, Westchester and New Jersey.
---
We see patients from all parts of New York City (Manhattan, Brooklyn, Queens, Bronx, Staten Island), Long Island, Westchester and New Jersey as well as other parts of the USA. We also see international patients from Canada, Japan, South America, Russia, Asia, Europe, Middle East, Africa, the Caribbean and other parts of the world.
We also offer emergency care for men with urological problems.
If you have any questions, to schedule a consultation or if you need a second opinion, please contact us.
---
This post is also available in: Russian