Scrotal Mass or Granuloma after Vasectomy.
---
If you have any questions, to schedule a consultation or if you need a second opinion, please contact us or call (646) 663-5922
---
Scrotal Mass after Vasectomy Usually Disappears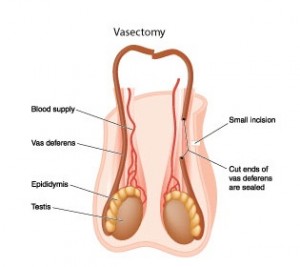 Small scrotal mass typically caused by inflammation, granuloma or small hematoma is often present immediately after vasectomy and can persist for a few weeks.
Typically, this gets smaller and eventually disappears within the 1st 3-6 months. Occasionally a bigger mass caused by spermatic granuloma may occur after vasectomy. Sometimes granuloma may resorb and disappear spontaneously. Other times it may not disappear and may be noticeable on palpation.
Persistent scrotal granuloma typically causes no symptoms and does not present any dangers. Usually, no treatment is necessary.
However, when granuloma causes problems such as discomfort, excision of the granuloma is possible.
What You Need to Know:
Learn More About:
---
If you have any questions, to schedule a consultation or if you need a second opinion, please contact us or call (646) 663-5922
---