Siemens Acuson SC2000 Ultrasound System – 2014
Cardiac & Vascular Ultrasound Machine for Sale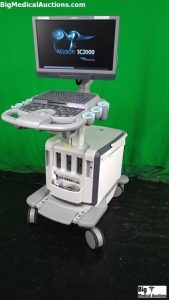 Click to Buy Now: 30-day Warranty.
Ready for scanning patients.The only issue is that the trackball while fully functioning lacks full 'smoothness" likely needs to be cleaned.
Premier Cardiovascular Ultrasound system – fully loaded for cardiology measurements
Date of Manufacture: 2014
High resolution

flat screen monitor

– updated model
Comes with EKG cord (see images)
Biomed tested (includes Electrical Safety)
Probes / Transducers are not included.
Model number 10433816
Serial number: 400517
Date of manufacture: 8/2014
Product Version: VA35E
Installed licenses:
Syngo.net_general_license
US_Bedrock_General_license
US_BRK_2D_stress
US_BRK_ADV_SIECLEAR
US_BRK_Clarify
US_BRK_PED_IMG_PKG
US_BRK_SPECT_DOP_WKFL_ACCEL
US_BRK_VASC_IMG_PKG
Software: 3.5 Integ52_release
Diagnostics: Prod R3.04 Aug 21, 2013
Product: VA35E
Has presets for the following probes:
4V1C supported
4z3c
CW2
8V3
6C1 HD
10V4
9L4
V5M
V7M
AcuNavV
AccuNav 8F
AcuNav 10F