2018: Innovations and Best Practices for Bladder Cancer Treatment
by Alex Shteynshlyuger MD
---
If you have any questions, to schedule a consultation or if you need a second opinion, please contact us or call: 646-663-5515
---
Bladder Cancer Treatment Innovations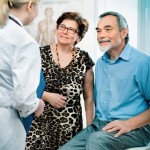 There are a number of innovations that have led to improved care of patients with bladder cancer. The most important innovations include the use of mitomycin therapy immediately after resection of bladder tumors and cancers. Mytomycin is a fairly safe agent and leads to a significant benefit with decreased chances of bladder cancer recurrence.
For patients with high-risk Ta and T1 disease, a re-resection of the tumor bed leads to improved diagnostic information.
Another important treatment that has been around for a very long time. Only recently we understood just how beneficial the treatment with BCG therapy administered in the urinary bladder is for patients with bladder cancer. BCG treatment is appropriate for patients with high risk or frequently recurring non-muscle invasive bladder cancer. It significantly decreases recurrence of bladder cancer and it seems to decrease the chances of it progressing to invasive disease. It is one of the few treatments for non-invasive bladder cancer that has demonstrated a trend towards improving survival in patients with bladder cancer. Evidence shows that intravesical BCG treatment is underused in patients who can benefit from it.
Use of blue-light cystoscopy (Photodynamic Diagnosis or PDD) with Cysview (Blue light cystoscopy) improves visualization of bladder cancer and decreases recurrence. It also minimizes the need for multiple surgeries (TURBT).
Finally, for patients with muscle-invasive bladder cancer, neoadjuvant chemotherapy given prior to radical cystectomy leads to significant improvement in survival from bladder cancer.
2016 is an exciting year for patients with bladder cancer. It promises improved diagnostic and treatment options for bladder carcinoma. We are on our way to winning the fight against bladder cancer.
---
If you have any questions, to schedule a consultation or if you need a second opinion, please contact us or call: 646-663-5515
---
This post is also available in: Chinese (Simplified) Spanish