Ureteroscopy for Kidney Stones at New York Urology Specialists
---
If you have any questions, to schedule a consultation or if you need a second opinion, please contact us or call: 646-663-4421
Dr. Alex Shteynshlyuger is a board-certified urologist. He treats men and women with kidney and ureteral stones.  He is among the most experienced specialists when it comes to treatment of large kidney stones and ureteral stones. Dr. Shteynshlyuger has performed hundreds of ureteroscopy and lithotripsy procedures for large kidney stones, in addition to ESWL procedures.  He is among a select number of urologists in the United States who performs PCNL for large kidney stones.  
---
What is Ureteroscopy?
Ureteroscopy is a procedure performed by urologists to visualize the ureter which is a tube that connects the kidney to the urinary bladder. Urine flows was from the kidneys to the bladder through two ureters.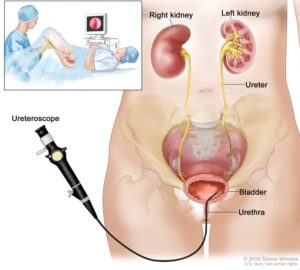 Ureteroscopy is typically performed using a small instrument the size of the tip of a pen, called the 'ureteroscope'. The ureteroscope is passed through the urethra into the urinary bladder and up the ureter and into the kidney.  By directly visualizing a ureteral or kidney stone, urologist can treat the stone by breaking it with holmium laser or by removing it using a stone basket.
A ureteral stent is often necessary after ureteroscopy.  The stent is typically removed within 1-2 weeks after ureteroscopy but sometimes may be needed for a prolonged period of time.
When Should I Choose Ureteroscopy?
Ureteroscopy is very effective for treatment of ureteral and kidney stones.  It is somewhat more involved than shockwave lithotripsy and has slightly higher risk of side effects and complications especially when it comes to treatment of kidney stones.  Advantages of ureteroscopy is that it is more effective and is more likely to render patient stone-free in one procedure.  Ureteroscopy with laser lithotripsy is a preferred option for men and women who cannot stop aspirin to have a surgery for kidney stones.
After Ureteroscopy
Read about recommended follow-up after ureteroscopy.  We would often order metabolic evaluation and possibly 24 hour urine collection. Ureteral stent is typically removed 1-2 weeks after ureteroscopy.  If the stone was impacted in the ureter or the ureteroscopy was more complicated, the stent may be left for a prolonged period of time typically up to 6-8 weeks.
---
If you have any questions, to schedule a consultation or if you need a second opinion, please contact us or call: 646-663-4421
---