Importance of Uroflowmetry (Uroflow Test) Measurement in Treatment of Urinary Problems
by Dr. Alex Shteynshlyuger, a board-certified urologist and specialist in the treatment of urinary problems in men and women including frequent urination, burning with urination and urinary retention.
---
If you have any questions, to schedule a consultation or if you need a second opinion, please contact us or call: 646-663-4151
---
What is Uroflowmetry Measurement?
Uroflowmetry or uroflow is a measurement of the strength of urinary flow. Uroflow is measured using a special sensor that measures the speed of urine flow as urine hits the urinal that has the sensor incorporated in it.
What are the Normal Uroflow Values in Men and Women?
Women typically urinate at lower pressures there are no established values for urinary flow rates in women. Typical flow rates around 8-14 mL/s
Typically, men urinate at higher pressures due to the length of the urethra and the prostate. Typical uroflow rates in a young healthy male are greater than 25 mL/s. In patients with symptoms of enlarged prostate blocking the urine flow or urethral stricture, uroflow rates are typically less than 16 mL/s
The pattern of urine flow also provides an important piece of information about the underlying bladder function. If the urinary flow is intermittent, it is an indication of urinary tract obstruction. Intermittent flow is likely caused by high pressure inside the bladder that is generated for the bladder to overcome resistance from obstruction.
What Problems Occur if Uroflow Numbers are Low or High?
Normally, high uroflow numbers are considered normal. However, in special situations, it may be an indication of underlying abnormally high bladder pressures.
Typically, low uroflow numbers in particular in men are of concern. Low uroflow numbers typically indicate blockage or obstruction of the urethra. Most commonly, urethral narrowing is caused by urethral strictures in younger men and an enlarged prostate in older men. Urethral strictures can also occur in women but are less common.
In women, low uroflow numbers in combination with elevated postvoid residual may be an indication of obstruction. Low uroflow numbers in women without elevated postvoid residual may be a variation of normal; when urinary symptoms occur further evaluation may be necessary.
What are the Treatment Options Poor Urine Flow as Measured by Uroflow?
Since poor urine flow is typically caused by urethral obstruction of some sort, correction of that problem usually addresses low urine flow. A urethral stricture can be surgically corrected. Symptoms caused by an enlarged prostate can be treated with medications such as Flomax, procedures such as Urolift for BPH or surgery such as laser enucleation of the prostate.
In women, pelvic floor prolapse can be treated with pessaries or surgery.
Why Choose New York Urology Specialists for Treatment of Bladder Problems?
All treatment is performed by a Board-certified urologist experienced in treating men with symptoms of frequent urination, urinary urgency, urinary incontinence and bladder pain using medical therapy, minimally invasive therapies, lasers and open surgery.
We are one of the few practices in the region to offer a full range of options for treatment of urinary problems in men and women
We offer treatment options for overactive bladder, UTI, and urinary incontinence in our office which avoids the risks, costs, and recovery from general anesthesia.
Extensive Experience: Hundreds of men and women have treated successfully using medical therapy, Botox for overactive bladder, Interstim for frequent urination and tibial neuromodulation.

When it comes to experience and innovation – New York Urology Specialists are a step ahead. Better Science Means Better Care. We specialize in minimally invasive highly effective treatment for symptoms of bladder pain, urethral burning, pelvic discomfort, incomplete bladder emptying, urinary frequency, and urgency. Many treatment procedures are performed in the convenience and privacy of office settings under local anesthesia.
If you have any questions, to schedule a consultation or if you need a second opinion, please contact us or call: 646-663-4151
Medicare and major insurances accepted. Urologist. We offer affordable rates and financing options.
Schedule an Appointment with Dr. Shteynshlyuger:
Call today: 646-663-4151 or make an appointment online
Dr. Alex Shteynshlyuger is a fellowship trained board-certified urologist with expertise in evaluation and treatment of urinary problems. He uses modern effective and proven treatment methods including Botox for OAB, Interstim neuromodulation. He is highly recommended by top primary care physicians in the New York area.
He has successfully treated hundreds of men and women of all ages with urinary problems including bladder problems, kidney problems, urethral and ureteral problems.
If you or someone you know has been experiencing urological symptoms, make an appointment to take advantage of Dr. Shteynshlyuger's expert advice. Please feel free to Contact Us with any questions.
---
If you have any questions, to schedule a consultation or if you need a second opinion, please contact us or call: 646-663-4151
We offer affordable, highest-quality urology care with or without insurance. Find out our office hours or directions to our office. We offer weekday, weekend, and evening office hours.
---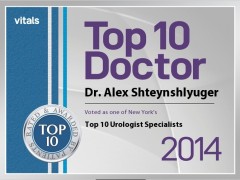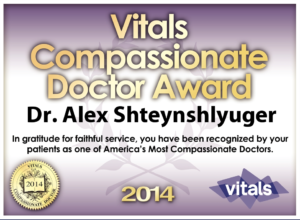 ---
If you have any questions, to schedule a consultation or if you need a second opinion, please contact us or call: 646-663-4151
Dr. Alex Shteynshlyuger is a board-certified urologist in NYC who specializes in treating men and women with urinary problems including frequent urination, difficulty emptying the bladder, urinary urgency and incontinence.
---