Treatment of Bladder Discomfort and Pain in New York City
by Dr. Alex Shteynshlyuger, a board-certified urologist and specialist in the treatment of urinary problems in men and women including frequent urination, burning with urination and urinary retention.
---
If you have any questions, to schedule a consultation or if you need a second opinion, please contact us or call: 646-663-4151
---
What are the Causes of Pain and Discomfort Before, During and After Urination?
Most common causes of bladder discomfort and urethral pain are UTIs, STDs (sexually transmitted diseases), ureteral stones and bladder stones. Enlarged prostate in men can cause urinary discomfort and pain during urination. Incomplete bladder emptying can cause pain and discomfort before and during urination.
Diagnosis Tests for Evaluation of Bladder Discomfort and Pain
A diagnosis of dysuria is made based on pain characteristics such as gradual or sudden onset, duration of symptoms, and accompanying symptoms such as fever, cloudy urine, itching, burning, and urethral discharge. Changes in urine flow such as dribbling, difficulty initiating flow, and increased frequency of urination also help the urologist identify the cause of urinary pain. Pelvic and bladder ultrasound with post-void residual volume measurement is often performed to help with the diagnosis. Finally, microscopic examination of a urine sample provides clues about the cause of dysuria.
Treatment of Bladder Discomfort
The treatment for urinary pain depends on the cause. If an infectious cause is identified, it can be cured with a course of antibiotics taken by mouth. Often antibiotics such as Bactrim or nitrofurantoin work well; other antibiotics are used for resistant infections.
Similarly, effective treatments are available for kidney stones and overactive bladder as a cause of dysuria. Talk to our urologists today to find out what is the appropriate treatment for dysuria for you. It is worth remembering that causes of dysuria, such as STDs, if left untreated can lead to long-term problems such as scarring and infertility.
Pelvic discomfort and pain caused by incomplete bladder emptying can be treated with Interstim neuromodulation for non-obstructive urinary retention. Clean intermittent self-catheterization may be helpful for some patients. Urethroplasty is used to treat patients with urethral strictures.
Men with incomplete bladder emptying to enlarged prostate can be treated with medications such as Uroxatral, office BPH procedures such as Urolift procedure and Rezum water-vapor therapy. TURP and prostate laser enucleation offer the greatest improvement in symptom relief
Can Bladder Discomfort be Cured?
Most of the time our doctors at New York Urology Specialists are able to find the cause of bladder discomfort and cure the problem within a few visits; for more complicated problems, a few different treatments may need to be tried to see which one works best.
Other Commonly Associated Urinary Problems that can Occur with Bladder Discomfort
In some patients, IBS (irritable bowel syndrome) may be associated with bladder discomfort. Endometriosis in women can also sometimes cause similar problems. Large uterine fibroids can occasionally cause bladder discomfort and pelvic pain in women.
Why Choose New York Urology Specialists for Treatment of Bladder Pain and Discomfort?
All treatment is performed by a Board-certified urologist experienced in treating men with symptoms of frequent urination, urinary urgency, urinary incontinence and bladder pain using medical therapy, minimally invasive therapies, lasers and open surgery.
We are one of the few practices in the region to offer a full range of options for treatment of urinary problems in men and women
We offer treatment options for overactive bladder, UTI, and urinary incontinence in our office which avoids the risks, costs, and recovery from general anesthesia.
Extensive Experience: Hundreds of men and wo men have been treated successfully using medical therapy, Botox for overactive bladder, Interstim for frequent urination and tibial neuromodulation.

When it comes to experience and innovation – New York Urology Specialists are a step ahead. Better Science Means Better Care. We specialize in minimally invasive highly effective treatment for symptoms of bladder pain, urethral burning, pelvic discomfort, incomplete bladder emptying, urinary frequency, and urgency. Many treatment procedures are performed in the convenience and privacy of office settings under local anesthesia.
If you have any questions, to schedule a consultation or if you need a second opinion, please contact us or call: 646-663-4151
Medicare and major insurances accepted. We offer affordable rates and financing options.
Schedule an Appointment with Dr. Shteynshlyuger:
Call today: 646-663-4151 or make an appointment online
Dr. Alex Shteynshlyuger is a fellowship trained board-certified urologist with expertise in evaluation and treatment of urinary problems. He uses modern effective and proven treatment methods including Botox for OAB, Interstim neuromodulation. He is highly recommended by top primary care physicians in the New York area.
He has successfully treated hundreds of men and women of all ages with urinary problems including bladder problems, kidney problems, urethral and ureteral problems.
If you or someone you know has been experiencing urological symptoms, make an appointment to take advantage of Dr. Shteynshlyuger's expert advice. Please feel free to Contact Us with any questions.
---
If you have any questions, to schedule a consultation or if you need a second opinion, please contact us or call: 646-663-4151
We offer affordable, highest-quality urology care with or without insurance. Find out our office hours or directions to our office. We offer weekday, weekend, and evening office hours.
---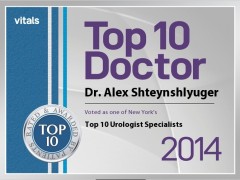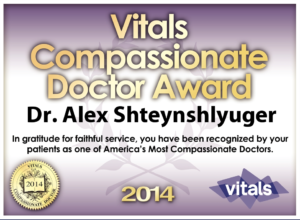 ---
If you have any questions, to schedule a consultation or if you need a second opinion, please contact us or call: 646-663-4151
Dr. Alex Shteynshlyuger is a board-certified urologist in NYC who specializes in treating men and women with urinary problems including frequent urination, difficulty emptying the bladder, urinary urgency and incontinence.
---