Confidential Diagnosis and Treatment of Sexually Transmitted Diseases for Men and Women in NYC
When it comes to your sexual health, it is important to choose a specialist who is experienced not only in diagnosing and properly testing for common as well as less common sexually transmitted diseases but who can also treat some of the most complex STDs in men including those that requires surgical treatment.
If you concerned that you might have a sexually transmitted disease, you need a highly trained and experienced urologist. Dr. Alex Shteynshlyuger was trained at some of the top hospitals in the United States for Urology. He has published articles on treatment of infectious diseases in men. He is fellowship trained and and practices evidence based medicine. All care provided is consistent with the national guidelines published by the Centers for Disease Control (CDC). We treat everyone with the same respectful and confidential approach. We are sensitive to the various and diverse needs of our patients.
---
If you have any questions, to schedule a consultation or if you need a second opinion, please contact us or call: 646-663-4125
---
Why Should You Choose New York Urology Specialists for Your Evaluation, Testing and Treatment?
At New York Urology Specialists each patient is evaluated individually in a confidential, non-judgemental manner.
What Makes New York Urology Specialists Different from Free STD Clinics and "Urgent Care Centers and Walk-In Clinics"?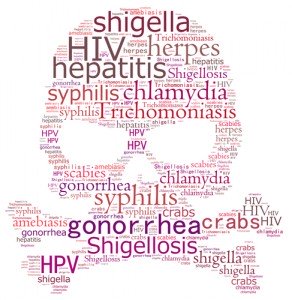 While there are many 'STD testing" centers in NYC, including free STD clinics few offer a comprehensive evaluation by a Board Certified Urologist and even fewer perform comprehensive evaluation and testing for sexually transmitted diseases as well as general health issues.
Typical tests ordered in free clinics and other "Urgent Clinics" for STDs miss up to 30% of STDs.
We routinely test for the following sexually transmitted diseases:
Hepatitis B
Hepatitis C
Syphilis
In addition, we offer HPV testing when necessary as well as herpes testing when necessary.
Most clinics are not staffed by physicians and even fewer have physicians who specialize in treating men with STDs.
Why Should You See New York Urology Specialists for a Second Opinion?
If you went elsewhere for your testing and treatment for STDs but your symptoms have persisted, seeing a specialist at New York Urology Specialists makes sense.
Many patients we see for second opinion have not received the appropriate treatment as recommended by the most recent CDC guidelines. Many "STD Testing Clinics" in fact do not perform a minimal history and physical exam which can lead to less than optimal outcomes.
What do you offer that is not offered elsewhere?
In addition to the most comprehensive STD testing, we offer preventive options including HPV vaccination, as well as HIV prevention for high-risk individuals. With many men and women not having a regular primary care physician, New York Urology Specialists often detect and help our patients address serious medical issues other than STDs. "Quick STD Clinics" lack a focus on the bigger picture of your health.
If you have symptoms related to STDs or urinary tract, our board certified urologists are able to treat you even if you do not have a STD. In essence you save an extra visit to a urologist by coming to us for your STD testing.
We offer both testing and treatment. Our treatment is based on the most recent CDC (Centers for Disease Control) recommendations. We also offer genital wart removal as well as treatment for more complicated infections that other clinics are simply not able to provide.
Who Gets Sexually Transmitted Diseases?
New York City has one of the highest rates in the country for sexually transmitted diseases. For example the risk of HIV in New York City is almost twice the national average and especially high for men over age 30, with risk being persistently high for men over age 60. Gay men are especially at risk, with rates up to 10 times higher than for the rest of population. Similarly, the risk for other STDs is also higher in NYC.
What that means is that your sexual partners in NYC are much more likely to have STD – another reason for regular testing. Sometimes the question is not who you sleep with but who your sexual partners have been sleeping with. Your risk is a factor of both your exposure and the exposure of each of your sexual partners, which could be exponential.
There are many misconceptions about who can get sexually transmitted disease and how they are transmitted.
While it may be obvious that vaginal, oral and/or anal sex can lead to transmission of sexually transmitted diseases it is less obvious that commonly used methods to prevent STDs may still allow transmission of sexually transmitted diseases. While heterosexual men in general have lower risk of sexually transmitted diseases than homosexual, the actual risk varies depending on the number of sexual partners and sexual practices. In general all men in New York City are at higher risk for STDs than elsewhere in the country.
A recent study of American men showed that 0.7% of all men are infected with HIV, 61% of men are seropositive for herpes and 14% are infected or have been exposed to HPV (human papillomavirus). HPV is the cause of genital warts, oral cancer, penile cancer, cervical cancer in women and anal cancer in gay men.
How Are STDs Transmitted?
Some sexually transmitted diseases are transmitted mostly through fluid such as HIV. HIV can be transmitted through semen, blood and urine. We now recognize that HIV may also be transmitted by kissing and saliva especially when there are obvious or microscopic skin or mucosal breakdowns.
Other sexually transmitted diseases may be transmitted through skin contact for example herpes virus. Wearing a barrier such as a condom may decrease the chances of herpes transmission but does not eliminate it.
It is important to understand that even men who always use condoms may become infected with sexually transmitted disease.
What are the symptoms of Sexually Transmitted Diseases.
It is important to note that many sexually transmitted diseases may not cause any symptoms in men; or may cause them infrequently. The Centers for Disease Control (CDC) recommends STD testing for all men and women who are at risk for sexually transmitted diseases.
Common Symptoms of STDs in Men:
Discharge from Urethra (Peeing hole)
Pain during Urination
Burning Sensation During Urination
Difficulty with Passing Urine
Testicular or Scrotal Pain
Pelvic Pain or Prostate Pain
Who Should Get Tested for STDs?
All sexually active men are advised to be tested for STDs by the Centers for Disease Control (CDC). CDC recommends STD testing for both heterosexual men at risk as well as men who have sex with men.
If your partner has tested positive for sexually transmitted disease, you should be tested as well.
What Should I Get Tested For?
When it comes to testing for sexually transmitted diseases it is important that the testing is comprehensive or it may miss an infection. You can get an infection even if your partner did not test positive for the same infection. Some men and women may get infected with a sexually transmitted disease and transmit it to others but test negative because at the time of testing their immune system may have cleared the disease from the system or the test may have missed it.
Our Services:
We Test for the Following Sexually Transmitted Diseases (STD):
We may also test you for other conditions after individual evaluation if the clinical situation requires it such as Hepatitis B and C viruses.
Treatment of All STDs, UTI, prostatitis.
Vaccination for HPV (Human Papilloma Virus)
Removal of genital warts
– Penile Warts
– Scrotal Warts
– Perineal Warts
– Warts on Thighs
– Warts on lower abdomen
HPV Prevention in NYC: HPV Vaccination for Prevention of HPV Warts and Cancer for Men and Women
We now offer HPV vaccination with the most effective vaccine on the market, quadvalent Gardasil. The vaccination is a good choice for every man and women under age 26 as well as men and women who are at higher risk for acquiring HPV after age 26.
---
If you have any questions, to schedule a consultation or if you need a second opinion, please contact us or call: (646) 663-4125
We also offer emergency care for men and women with urological and sexual problems.
We offer affordable, highest-quality urology care with or without insurance. Find out our office hours or directions to our office. We offer weekday, weekend and evening office hours.
---
urology services
by

juanito creque

on Apr 11, 2018
I am very satisfied with the treatment I received at new york urology specialist and would recommend them to other patients.they are the very best.
Review
by

Bob Brown

on Nov 19, 2017
I am writing to thank dr. Alex. He is thorough, professional, knowledgeable, helpful and friendly. I have seen him for ED and prostate issues, and he has explained all my options clearly, and found solutions that have been a great help. thank you! I highly recommend both Dr. Alex and his staff, which I find to be helpful, friendly, knowledgeable and very professional. They are a pleasure to deal with and all have been a great help.
Dr visit
by

Clarence Brown

on Sep 14, 2017
I am very much thankful for meeting Dr Alex .I had a very serious medical problem I visited many doctors but none could not help me it was very difficult for me until I visited Dr Alex after a couple visits my medical problem is no more I feel very great also I felt almost 20 years younger Dr Alex is second to none fantastic doctor. Thanks again Dr Alex from my family.
Genius
by

Patient

on Jun 04, 2017
" He found my source of testicular pain that was missed by a Urologist from my insurance provider. Although I paid to go out of network- any price is less than testicular pain. He is generous with his time and will not short change anyone for care." via Vitals.com Posted on June 4th, 2017
Excellent doctor
by

Michael

on Jul 03, 2014
I am feeling better now after visiting clinic New York urology specialists. Excellent staff and appointment on time.
We love you!
by

Joyce T

on Feb 16, 2012
Dr. Alex Shteynshlyuger and Staff – Thank you so much for taking care of my husband Bob. Dr. Alex: I thank God everyday for you. You were an answer to prayer.
This post is also available in: Spanish