Blood in Urine in Women: Specialized Treatment in New York City
---
If you have any questions about blood in urine in women, to schedule a consultation or if you need a second opinion, please contact us or call 1 (646) 663-5515
The highly trained and experienced urologist at New York Urology Specialists treats women with blood in urine.
---
Board Certified Urologists in NYC are Experienced in Treating Blood in Urine in Women

Our board-certified urologist has more over 10 years of experience providing evaluation for blood in urine. We treat women with blood in urine who also have multiple medical problems in addition to urological problems that include diabetes, heart disease, strokes, heart attacks, hypertension, multiple sclerosis, COPD and asthma, sleep apnea, high cholesterol and obesity, colon cancer.
We diagnose the cause of blood in urine but also treat over 90% of causes of bloody urine including UTI, cystitis, bladder stones, kidney stones, kidney cancer, bladder cancer and renal problems.
Why Is Blood in Urine an Important Symptom?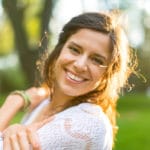 Blood in urine is an important symptom that is often associated with serious medical problems. Whether blood is microscopic or visible to the eye, proper medical evaluation is essential.
Urologists are the only medical specialists who are skilled at fully evaluating and treating causes of blood in urine.
Required examination for blood in urine includes physical exam, microscopic urinalysis and urine culture and STD testing when appropriate. In the absence of UTI or another obvious cause such as ureteral stones, cystoscopy and CT urogram should be performed.
Significant medical problems can occur in women with microscopic or visible bleeding. The chances of having a dangerous problem are higher if blood in urine is visible to the eye.
Visible and Microscopic Blood in Urine in Women
Blood in urine is known medically as 'hematuria'. Other descriptions are sometimes used such as a trace of blood in urine, red blood cells (RBCs) in urine, or visible blood in urine.
When blood in urine is microscopic (not visible but detectable via testing), the severity is measured as red blood cells (RBC) per high power field (HPF) under the microscope. Usually, >3-5 RBCs/HPF is considered abnormal. With >20-50 RBCs/HPF, a significant urological or medical problem often exists.
Blood in the urine can originate from the kidneys, ureters, urinary bladder and the urethra. Sometimes inflammation of adjacent organs such as the colon (colitis), uterus or cervix can also cause blood in urine.
Blood in urine
Blood in urine in women can sometimes originate from vaginal bleeding, uterine bleeding or menstrual period. Sometimes rectal bleeding can be confused with hematuria.
It is important to distinguish whether the blood if from genital or urinary tract as the causes, evaluation and treatments are different.
What You Need to Know:
Visible blood in urine typically signifies a significant medical and urological problem. Most women with microscopic or invisible blood in urine also have an underlying problem that requires diagnosis and treatment. While often the problem is minor such as a UTI, other times the problem may be more dangerous such as kidney stones or bladder cancer. At New York Urology Specialists, we use most advanced tests to evaluate the causes of hematuria.
[box style="0″]
Please contact us to schedule full evaluation. To schedule a consultation or if you need a second opinion, please contact us or call 1 (646) 663-5515
[/box]
Microscopic Hematuria
The finding of microscopic red blood cells in urine is fairly common in women. Usually, it is found incidentally during a routine urine analysis. If a diagnosis is made using a dipstick urinalysis, the test needs to be confirmed with microscopic examination to make sure that there are red blood cells present. Sometimes a dipstick test can produce unreliable results.
Visible or Gross Hematuria is Less Common.
If the blood in urine is visible to the eye as pink or red-colored urine, no additional tests to confirm the presence of blood in the urine are required. Visible blood in the urine is usually a diagnosis that is established by the patient herself. Even if visible blood in urine resolves spontaneously, a thorough evaluation by a urologist is advisable.
Blood in the urine can occur in women with a bladder infection. Blood in the urine can also be a symptom of other medical and urological problems such as bladder cancer, kidney or bladder stones and kidney cancer in women.
Women who have a history of smoking, even if they quit as long as 20 years before are at increased risk for bladder cancer; so are women over age 40.
Sometimes blood in the urine can cause symptoms that mimic UTI. Unless bacterial culture showed a UTI, caution should be exercised in attributing blood in urine to an infection. Sometimes blood in the urine is episodic and disappears on its own within a day or a few days. An antibiotic given for a UTI when there is no UTI can make it appear that it's helping.
The causes of hematuria vary depending on the age of a woman and the underlying risk factors.
Common Causes of Hematuria or Bloody Urine in Women are:
Cystitis, Urinary tract infection (UTI), kidney infection and pyelonephritis
Kidney stones and Ureteral stones can cause usually microscopic hematuria but occasionally gross hematuria occurs
Bladder lesions, polyps, masses including bladder cancer and carcinoma in situ (CIS) of the bladder can first present with hematuria.
Hematuria may be the first sign of intrinsic kidney disease (glomerular disease).
Kidney cysts including polycystic kidney disease
Kidney masses and Kidney cancer occasionally present with hematuria; now we often find them before they are large enough to cause hematuria.
Ureteral cancer is a less common cause of hematuria.
Transitional cell carcinoma of the upper tract and lower tract
Urethral tumors polyps masses and diverticula
Urethral cancer
Radiation cystitis can occur in women who had pelvic radiation in the past for cervical or uterine cancer.
Chemotherapy-induced hemorrhagic cystitis(cyclophosphamide)
Less common causes of hematuria include Colon cancer invading the bladder,
Metastatic cancer to the bladder from other sites.
Locally invasive cancer to the bladder and urethra from ovaries uterus and cervix.
UTI is Not the Only Cause of Urinary Bleeding in Women
It is important to note that because urinary tract infections or cystitis are common in women often hematuria is incorrectly attributed to a urinary tract infection especially in women who are prone to having urinary tract infections.
While that is possible that blood in urine is caused by UTI, a thorough evaluation may still need to be performed depending on individual risk factors.
Studies show that it is not infrequent that blood in urine and symptoms of UTI can coexist with other more serious causes such as bladder stones, bladder cancer, and kidney dysfunction. Women with risk factors include those who are over age 40, current and former smokers and those with a history of underlying medical problems such as diabetes and cancer.
Read about top 5 things to know about blood in urine.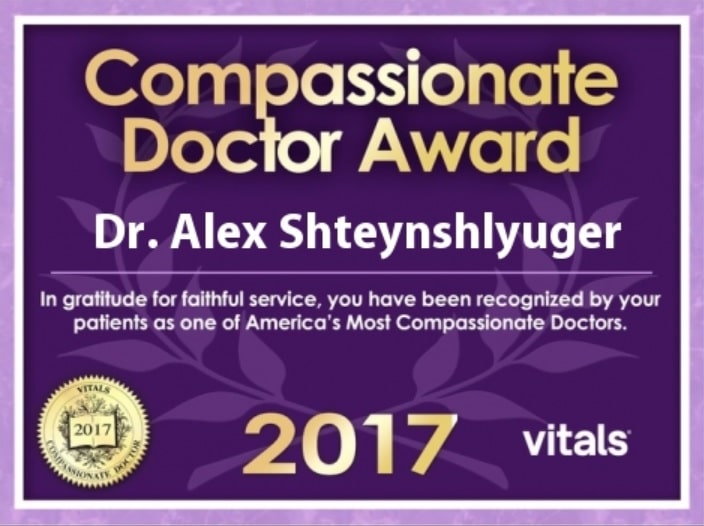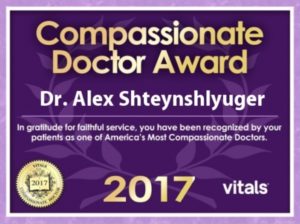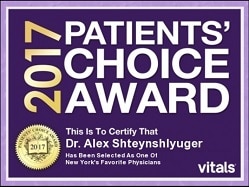 ---
If you have any questions, to schedule a consultation or if you need a second opinion, please contact us or call 1 (646) 663-5515
We see patients from all parts of New York City (Manhattan, Brooklyn, Queens, Bronx, Staten Island), Long Island, Westchester and New Jersey as well as other parts of the USA. We also see international patients from Canada, Japan, South America, Russia, Asia, Europe, Middle East, Africa, the Caribbean and other parts of the world.
---
Recommendation
by

JOHN

on Jul 18, 2019
Therefore I would like to recommend you to anyone who need your services.
Highly grateful
by

HealthGrades.com

on Jun 18, 2019
Dr. Shteynshlyuger is a very patient, understanding and caring doctor. I came to take opinion on my father's treatment going on in my home country. Highly satisfied from his responses. He even responded to so many of my queries through patient portal . Highly grateful.
Great follow ups
by

Tara

on Mar 17, 2019
Overall, I am happy with the services provided by Dr. Alex and his office staff. They are second to none when regarding follow-ups and getting back to you promptly, which is definitely not always the case with specialists. Furthermore, living abroad, he has offered to continue to treat me via skype and through email, which has been hugely helpful considering the medical care where I live is not as comprehensive as in the United States.
Review
by

Monique

on Jan 28, 2019
Absolutely amazing!
First class Surgeon & staff
by

DAM BEN STANTON

on Sep 24, 2018
From the very appointment to the last follow-up visit, I felt I was at the right place and with the right people around me. Dr. Alex Stheynshlyuger and his staff made it easy and confortable. I would recommend them to every man.
Friendly , courteous, effiecient and professional
by

Wyts

on Sep 15, 2018
Wyts Wyts recommends New York Urology Specialists via Facebook. September 15, 2018 · Friendly , courteous, effiecient and professional staff members. This office i highly recommend for any and all Urology matters. Dr Alex Shteynshlyuger is very professional and knowledgable easy to communicate with. Thanks Dr Alex
Satisfied Patient
by

Winston

on Sep 15, 2018
I am very please and satisfied with everything that has been offorded to me by New York Urology Specialist Office.....Dr Alex
Review
by

Christopher cato

on Aug 16, 2018
Outstanding service
urology services
by

juanito creque

on Apr 11, 2018
I am very satisfied with the treatment I received at new york urology specialist and would recommend them to other patients.they are the very best.
Excellent doctor
by

Jen R.

on Feb 19, 2018
I saw Dr. Alex for kidney stones. I'm very pleased with the results.
Review
by

Bob Brown

on Nov 19, 2017
I am writing to thank dr. Alex. He is thorough, professional, knowledgeable, helpful and friendly. I have seen him for ED and prostate issues, and he has explained all my options clearly, and found solutions that have been a great help. thank you! I highly recommend both Dr. Alex and his staff, which I find to be helpful, friendly, knowledgeable and very professional. They are a pleasure to deal with and all have been a great help.
Dr visit
by

Clarence Brown

on Sep 14, 2017
I am very much thankful for meeting Dr Alex .I had a very serious medical problem I visited many doctors but none could not help me it was very difficult for me until I visited Dr Alex after a couple visits my medical problem is no more I feel very great also I felt almost 20 years younger Dr Alex is second to none fantastic doctor. Thanks again Dr Alex from my family.
Excellent doctor
by

Michael

on Jul 03, 2014
I am feeling better now after visiting clinic New York urology specialists. Excellent staff and appointment on time.
Thanks to you
by

John & Pat

on May 16, 2013
Dear Dr. Alex -On behalf of John and myself – Our thanks to you for the care and concern of your help to Jack with his cancer problems. We will miss you & wish you only the best. Sincerely John & Pat Date: 2013
Thank you for excellent care
by

George & Sally R

on Jan 07, 2013
Dear Dr. Alex: We want to thank you for the excellent care you provided for George during his emergency operation and the follow up treatment. Your quiet, confident manner was reassuring to us during a very scary time for us. We will never forget you. George Sally R. Date: 2013
We appreciate all that you did to help my dad
by

Joanne R.

on Sep 17, 2012
Dear Dr. Alex – I just wanted to write you a note to thank you for all of the care you have gave to my father during his illness. We appreciate all that you did to help my dad through his illness. We wanted to be sure to let you know how much it meant to us. Sincerely Joanne R.
We love you!
by

Joyce T

on Feb 16, 2012
Dr. Alex Shteynshlyuger and Staff – Thank you so much for taking care of my husband Bob. Dr. Alex: I thank God everyday for you. You were an answer to prayer.
---