Treatment of Constant Urge to Urinate in Men and Women in New York City
by Dr. Alex Shteynshlyuger, a board-certified urologist and specialist in the treatment of urinary problems in men and women including frequent urination, burning with urination and urinary retention.
---
If you have any questions, to schedule a consultation or if you need a second opinion, please contact us or call: 646-663-4151 . We have 2 restrooms!
---
What are the Causes of Constant Urge to Urinate?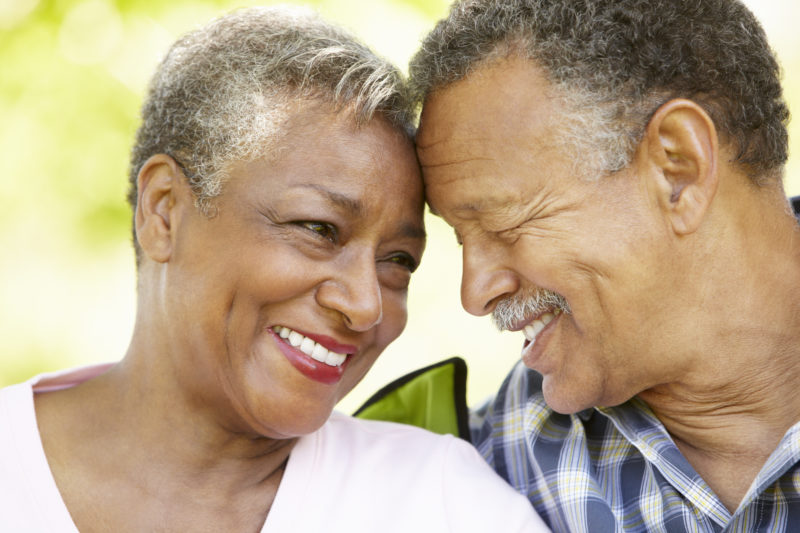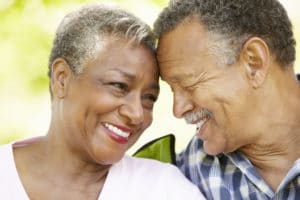 A constant urgency to pee may be caused by a full bladder, a bladder that does not empty completely, bladder irritation or inflammation or abnormal bladder sensation.
Incomplete bladder emptying and overactive bladder (OAB) are 2 of the most common causes of urinary urgency in men and women. Overactive bladder is caused by an abnormal sensation in the bladder.
Pressure on, or a compression of the bladder, such as what can occur during pregnancy, from large fibroids in women, or with severe constipation can cause a constant urge to urinate.
Irritation of the bladder can be caused by infection with UTI or sexually transmitted diseases. Inflammation and irritation of the bladder can be also caused by bladder stones, kidney stones passing into the bladder, and bladder cancer.
Erosion of surgical mesh that is used to repair pelvic floor prolapse or urinary incontinence can also cause a constant urge to urinate. Irritation and inflammation of the bladder may also cause invisible or visible red blood cells (blood) in urine.
In men, enlargement of the prostate or prostate swelling from infection (prostatitis) can also cause urinary symptoms including frequent urination and sensation of needing to pee all the time.
The abnormally small bladder can also lead to a frequent feeling of a need to urinate as the bladder can fill up fast if it is small. Some patients take certain medications that may predispose them to urinary urgency and frequent urination.
Have a Feeling of Constantly Needing to Run to the Toilet to Pee?
More than 90% of patients with urinary urgency are successfully treated at New York Urology Specialists.
Feeling of urinary urgency can have a dramatic effect on a patient's quality of life. It may limit them from social functions. It also limits their freedom as they must constantly think of 'where is the closest toilet" to where I am going.
Many patients with urinary urgency may also experience episodes of urinary incontinence or loss of bladder control when they cannot make it to the bathroom in time. Many patients have to wear protective pads or diapers to avoid embarrassing situations. Many of our patients tell us that they drive with a urinal or a bottle in the car in case they have a sudden urge to pee that they cannot control.
Fortunately, effective treatment is available. We have successfully freed our patients from the need to think of where the closest toilet is to allow them to experience the life to the fullest with their family and friends.
Diet, Stress, and Caffeine
Environmental and dietary causes of constant urge to urinate are also important. High caffeine intake from drinking a few cups of coffee a day can cause frequent urination and can predispose people to overactive bladder. Limiting caffeine intake often improved symptoms if they are provoked by caffeine intake.
Stress and anxiety can provoke a constant urge to urinate in some people. Typically symptoms are temporary and occur only in situations that cause high anxiety.
Some patients drink abnormal amounts of fluid that causes a constant urge to urinate.
If dietary and environmental reasons do not apply to you or changing them does not improve your condition, then you require further evaluation. Please contact us to schedule an appointment with our top urologist in NYC.
Tests to Evaluate Frequent Urge to Urinate
Common tests performed to diagnose and evaluate the reasons for constant urinary urgency in men and women include urinalysis and urine culture to evaluate for infection. Pelvic and bladder ultrasound along with post-void residual and uroflow tests are used to evaluate for incomplete bladder emptying and bladder problems such as bladder stones, large fibroids in women or enlarged prostate in men.
Cystoscopy is often performed to evaluate the bladder lining as well as the urethra to check for urethral strictures, bladder inflammation, bladder stones, bladder cancers and other anatomical problems.
Urodynamic testing may be performed to evaluate bladder detrusor muscle function as well as nerve function, and pressure inside the bladder.
Effective Treatment for Frequent Urge to Urinate in New York City
Effective treatment for urinary urgency is available for men and women at New York Urology Specialists. Our experienced doctors have many years of experience improving quality of life in patients with urinary problems including urinary urgency and urge incontinence. Treatment choices vary depending on the underlying problem that provoked urinary urgency in an individual patient.
Common Treatments for Patients with Urinary Urgency
Overactive Bladder Treatment: Behavioral therapy, pelvic floor therapy, medications such as Oxybutynin, Myrbetriq and Botox Injections in the bladder. Tibial neuromodulation (acupuncture-like treatment) and Interstim Sacral neuromodulation.
Surgical Treatment: bladder stone fragmentation and removal (litholapaxy), bladder tumor removal (TURBT), treatment for enlarged prostate in men: Greenlight Laser, Protouch laser and laser enucleation of the prostate.
Enlarged Prostate Treatment in Men: medications such as Flomax and Uroxatral; office procedures such as Urolift and Rezum procedure.
Urinary retention treatment: urethral catheterization (CIC), and treatment of the underlying cause of urinary retention.
Antibiotics for UTI
Commonly Associated Urinary Problems that can Occur in Women and Men with Persistent Urinary Urgency.
Patients with persistent urinary urgency may also experience a sensation of incomplete bladder emptying. Bladder discomfort or urethral discomfort are also common in patients with urinary urgency problem.
Patients may also experience bloody urine which requires a separate evaluation if it occurs.
Burning with urination may be a sign of infection but may also be caused by high pressures inside the bladder or bladder inflammation.
Why Choose New York Urology Specialists for Treatment of Urge to Urinate and Bladder Control Problems?
All treatment is performed by a Board-certified urologist experienced in treating men with symptoms of frequent urination, urinary urgency, urinary incontinence and bladder pain using medical therapy, minimally invasive therapies, lasers and open surgery.
We are one of the few practices in the region to offer a full range of options for treatment of urinary problems in men and women
We offer treatment options for overactive bladder, UTI, and urinary incontinence in our office which avoids the risks, costs, and recovery from general anesthesia.
Extensive Experience: Hundreds of men and women have treated successfully using medical therapy, Botox for overactive bladder, Interstim for frequent urination and tibial neuromodulation.

When it comes to experience and innovation – New York Urology Specialists are a step ahead. Better Science Means Better Care. We specialize in minimally invasive highly effective treatment for symptoms of bladder pain, urethral burning, pelvic discomfort, incomplete bladder emptying, urinary frequency, and urgency. Many treatment procedures are performed in the convenience and privacy of office settings under local anesthesia.
If you have any questions, to schedule a consultation or if you need a second opinion, please contact us or call: 646-663-4151
Medicare and major insurances accepted. We offer affordable rates and financing options.
Schedule an Appointment with Dr. Shteynshlyuger:
Call today: 646-663-4151 or make an appointment online
Dr. Alex Shteynshlyuger is a fellowship trained board-certified urologist with expertise in evaluation and treatment of urinary problems. He uses modern effective and proven treatment methods including Botox for OAB, Interstim neuromodulation. He is highly recommended by top primary care physicians in the New York area.
He has successfully treated hundreds of men and women of all ages with urinary problems including bladder problems, kidney problems, urethral and ureteral problems.
If you or someone you know has been experiencing urological symptoms, make an appointment to take advantage of Dr. Shteynshlyuger's expert advice. Please feel free to Contact Us with any questions.
---
If you have any questions, to schedule a consultation or if you need a second opinion, please contact us or call: 646-663-4151
We offer affordable, highest-quality urology care with or without insurance. Find out our office hours or directions to our office. We offer weekday, weekend, and evening office hours.
---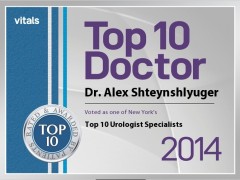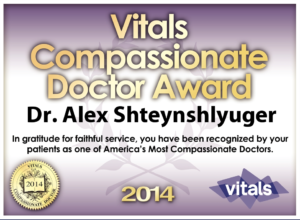 ---
If you have any questions, to schedule a consultation or if you need a second opinion, please contact us or call: 646-663-4151
Dr. Alex Shteynshlyuger is a board-certified urologist in NYC who specializes in treating men and women with urinary problems including frequent urination, difficulty emptying the bladder, urinary urgency and incontinence.
---