Frenuloplasty (Frenulectomy) of the Penis for Treatment of Short Frenulum (Frenulum Breve of the Penis)
---
If you have any questions, to schedule a consultation or if you need a second opinion, please contact us or call 1 (646) 663-5545
Dr. Alex Shteynshlyuger is a board-certified urologist in NYC who specializes in treating some of the most complex urology problems in men. He has performed hundreds of penile frenuloplasty procedures in men.
---
What is the Frenulum of the Penis?
Frenulum of the penis connects the foreskin (prepuce) to the glans penis and the shaft of the penis. The penile frenulum is located on the underneath of the penis (also known as ventral surface of the penis).
When the frenulum is tight or short, the tension on the frenulum during erection can cause pain in the penis. A short frenulum (frenulum breve) can also cause penile curvature (bent penis). Some men have tears and bleeding from the frenulum during sex.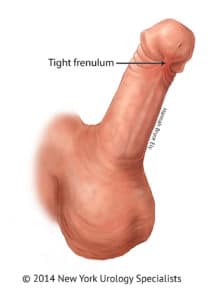 Treatment Options for Short Frenulum:
A number of treatment options are available for short frenulum. These include:
Circumcision (usually includes frenulectomy)
Frenulectomy (also called frenuloplasty)
Frenulectomy or frenuloplasty can be performed in the office settings under local anesthesia. The procedure takes about 20-30 minutes to perform. After frenuloplasty, patients are usually advised to avoid sexual intercourse for 3-4 weeks until the tissue heals completely.
Short frenulum of the penis does not get better on its own. Usually, frenulectomy or frenuloplasty is necessary to remove it.
What is the difference between Frenulectomy and Frenuloplasty?
Often, frenulectomy and frenuloplasty are used interchangeably. While both procedures are performed for treatment of tight frenulum, they are somewhat different.
Frenulectomy procedure involves simply cutting the frenulum. The frenulum (the skin tissue) is not removed which results in hanging frenulum skin. The procedure is not performed with the aim of achieving an aesthetic result. The goal of this procedure is functional: to release tight frenulum.
Frenuloplasty procedure involves removal and correction of the frenulum including removal of excessive skin in an effort to create a more pleasing aesthetic result while solving the functional problem at the same time.
Learn more about recovery after frenuloplasty of the penis.
Can Frenulectomy be Revised?
If someone had a frenulectomy, it is possible to do frenulectomy revision with frenuloplasty.
At New York Urology Specialists, we see men who had frenulectomy and who are unhappy about the residual frenulum tissue that is present. We can do revision frenuloplasty to remove the redundant frenular tissue of the penis to achieve a pleasing aesthetic result.
What is the Success Rate of Frenuloplasty?
For men with frenulum breve of the penis, penile frenuloplasty solves the symptoms associated with tight frenulum of the penis for greater than 90% of men.
Why Choose New York Urology Specialists for your Frenectomy (Frenuloplasty):
1. Experience – we perform over 100 adult frenuloplasty and circumcision procedures each year. There are very few board-certified urologists who perform as many.
2. Safety – We are one of the very few practices that offer frenulectomy under local anesthesia with same-day consultation and circumcision option. The safety of local anesthesia is unparalleled.
3. Confidential and Understanding Care. We understand that most of our patients desire privacy. We see patients with a variety of urological problems. Your reason for visiting us is entirely confidential.
---
What You Need to Know:
Learn More About:
---
If you have any questions, to schedule a consultation or if you need a second opinion, please contact us or call 1-(646) 663-5545
Dr. Alex Shteynshlyuger is a board-certified urologist in NYC who specializes in treating some of the most complex urology problems in men. He has performed hundreds of adult circumcision, circumcision revision, and frenulectomy procedures. He does adult male circumcisions for cosmetic as well as medical reasons.
---
This post is also available in: Spanish Russian Chinese (Simplified) French Italian Arabic