Intracorporeal Injection Therapy (ICI): Prostaglandin (PGE1, Caverject, and Edex), Bimix, Trimix, and Quad-Mix.
---
If you have any questions, to schedule a consultation or if you need a second opinion, please contact us or call 1-(646) 663-5211.
---
Logistics of Intracorporeal Injection Therapy for Erectile Dysfunction
This discussion applies to the following medications Bimix, Trimix, Quad-Mix, and prostaglandin preparations including Caverject and Edex.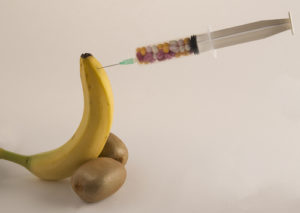 Usually, a small needle used by diabetic patients for injecting insulin is used for injection of these medications in the penis. It is important to inject the medication on the side of the penis at 90-degree angle to the penis (perpendicular). The preferred site of injection is about one third from where the penis originates.
I usually advise patients to stretch the penis, especially if you are uncircumcised, and then inject the medication while the penis is on a stretch. Usually, right-handed men hold the syringe in the right hand and pull the penis to the left to make injections easier. It is better to inject towards the top than towards the bottom of the penis as urethra runs on the "bottom" of the penis which you want to avoid.
How the Dose of Injections is Determined:
There is no single dose that is used for everyone. Each man is individually evaluated and an appropriate dose of medication is chosen to provide adequate erection while minimizing the risk of priapism (an erection that lasts for > 4 hours). With combination medications such as Trimix, various Trimix preparations are available with various strength, in addition to the dose of medication (mL or microliters), the preparation strength is chosen. Multiple visits may be required to choose the correct dose.
The goal when choosing an appropriate dose is to provide adequate erection hardness and adequate duration. The duration of erection should be close to or just under an hour.
We have also noticed that some man with ED can benefit sufficiently from 1 injection to be able to skip additional injections for one to two weeks at a time. They are able to achieve adequate erections spontaneously for some period of time after an injection before they need another injection.
Learn More About:
What You Need to Know:
---
If you have any questions, to schedule a consultation or if you need a second opinion, please contact us or call 1-(646) 663-5211.
We offer affordable, highest-quality urology care with or without insurance. Find out our office hours or directions to our office. We offer weekday, weekend and evening office hours.
Dr. Alex Shteynshlyuger is a board-certified urologist, who specializes in all aspects of care for sexual problems in men including ED, premature ejaculation and other sexual concerns. He has successfully treated hundreds of men with sexual problems including ED and poor libido. We see patients from all parts of New York City (Manhattan, Brooklyn, Queens, Bronx, Staten Island), Long Island, Westchester and New Jersey as well as other parts in the USA, Canada, South America and the Caribbean and other international patients. We also offer emergency care for men with urological problems.
---
This post is also available in: Arabic