Top Specialists in Diagnosis and Treatment of Testicular Cancer in New York City
---
If you have any questions, to schedule a consultation or if you need a second opinion, please contact us or call 1 212-204-6300
---
What is Testicular Cancer?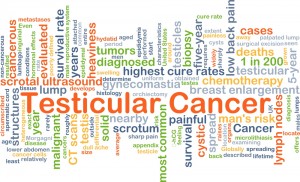 Testicular cancer refers to abnormal growth originating from the testis in men. Most testicular cancers occur in young men who are 20-30 years old.
How Do I Know if I have Testicular Cancer?
Most often testicular cancer is diagnosed as a result of the patient's symptoms such as scrotal or testicular pain, a new lump in the scrotum (ball-sac) or a mass or lump in the testis. Enlargement of the testis and scrotum may also be a sign of testicular cancer.
When you schedule a consultation with our experienced urologists, specialists in the diagnosis and treatment of testicular cancer, you will be carefully examined; if necessary s scrotal and testicular ultrasound will be performed to visualize the testis and to see if there is a testicular mass which may represent testicular cancer or if there are other explanations for your symptoms.
How Common is Testicular Cancer?
Testicular cancer is relatively uncommon cancer, but it is one of the most common cancers in young men by the virtue of relative rarity of cancers in young men to start with.
Top 5 Symptoms of Testicular Cancer:
Scrotal mass (lump in the ballsack). Usually painless but can occur with pain
Trouble breathing plus scrotal mass
Weight loss plus scrotal mass
Visual changes or neurological changes plus scrotal mass
Shortness of Breath and Sudden Unexplained Weight Loss in a Young Male.
Other Common Conditions that Can Cause Scrotal Mass (Ballsack lump) or Testicular Mass:
Hydrocele
Epididymo-orchitis
Inguinal Hernia
Epididymal Cyst
Can Testicular Cancer be Cured?
Testicular cancer is a great success story in the treatment of cancers. As many as 95% of men with early-detected testicular cancer can be cured with surgery, radiation and/or chemotherapy. While the success rate is good; there are still men who die from testicular cancer.
Dr. Alex Shteynshluuger is an experienced urologist, a fellowship-trained specialist in the treatment of testicular cancer.
Typically testicular cancer presents with scrotal and testicular enlargement over time. Pain is not very common, at least initially. Once the scrotal mass gets larger pain and discomfort may be associated with the mass.
It is important to remember that most men with scrotal enlargement do not have testicular cancer. Most common causes of scrotal enlargement are hydroceles or scrotal varicoceles. Epididymal cysts are also common and can be distinguished on physical exam or scrotal ultrasound. Epididymo-orchitis (infection of testis) can occur as well. It is important to get evaluated whenever there is a new mass or enlargement in the scrotum.
Testicular cancer originates in the testes and usually, a scrotal mass can be felt on physical exam. Other scrotal masses such as epididymal cysts are much more common; these can be differentiated from the testicular mass by physical exam. It is important to note that some men may experience a mass in the scrotum after vasectomy which is most commonly a sperm granuloma or scar tissue. Sperm granuloma can easily be distinguished from testicular mass on physical exam as well as on scrotal ultrasound by a urologist.
Physical exam of the scrotum by a urologist is the first step in the evaluation of any scrotal or testicular mass. Usually, a scrotal ultrasound would also be recommended as part of the evaluation. If the scrotal mass is localized in the testes and raises suspicion of cancer, blood work will be performed which includes, LH, LDH, and beta-HCG.
What are the Treatment Options for Testicular Cancer?
Treatment for testicular cancer depends on the type of cancer, presence or absence of cancer cells beyond the testis (metastatic spread).
Usually, the first step is the removal of the diseased testicle (radical orchiectomy). A testicular prosthesis may be implanted at the time of orchiectomy or at a later time.
Once the tissue is analyzed by a pathologist under a microscope and a final diagnosis is established, treatment is guided by results of a CT scan of the abdomen. CT of the chest is obtained if CT of the abdomen is abnormal. If CT of the chest has the disease, MRI of the brain is obtained.
Additional treatment may involve RPLND (retroperitoneal lymph node dissection), chemotherapy, radiotherapy or a combination of these treatments.
---
If you have any questions about testicular cancer treatment, schedule a consultation, contact us or call 1-(212) 204-6300. We have excellent reviews from patients and their partners.
We offer affordable, highest-quality urology care with or without insurance. Find out our office hours or directions to our office. We offer weekday, weekend and evening office hours.
Dr. Alex Shteynshlyuger is a board-certified urologist, who specializes in all aspects of care for sexual problems in men including ED, premature ejaculation and other sexual concerns. He has successfully treated hundreds of men with sexual problems including ED and poor libido.
---
Testicular Cancer is Treatable in Nearly Every Man

At New York Urology Specialists, our urologists are specially trained in the evaluation and treatment of testicular cancer. We understand the challenges that testicular cancer creates for our patients, their relationships and their self-esteem. We help you find a treatment that fits your needs, your lifestyle and your preferences.
Urologists are doctors specializing in the treatment of men with erectile dysfunction. By the virtue of our experience and skill, we are able to offer an effective treatment option for nearly every man who desires an effective treatment for ED. We offer medical and surgical treatment for erectile dysfunction.
We Treat Some of the Most Complex Health Problems in Men Including:
Schedule an Appointment with Dr. Shteynshlyuger:
Call today: (212) 204-6300 or make an appointment online
Dr. Alex Shteynshlyuger is a fellowship trained board-certified urologist with expertise in evaluation and treatment of urological problems in men using modern effective and proven treatment methods. He is highly recommended by top primary care physicians in the New York area. If you or someone you know has been experiencing urological symptoms, make an appointment to take advantage of Dr. Shteynshlyuger's expert advice. Please feel free to contact us with any questions.