Penile Implant Specialists in New York City
Penile Implant: What You Need to Know
---
Dr. Alex Shteynshlyuger is a board-certified urologist, a surgeon who specializes in ED. He performs penile implant surgery for men with erectile dysfunction.
If you have any questions, to schedule a consultation, please contact us or call/text: 1-646-663-5211.
We have excellent reviews from patients and their partners. Information for out-of-state and international patients. Find out our office hours or directions to our office.
---
What is a Penile Implant?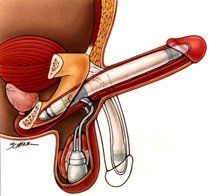 A penile implant is an effective treatment option for men with symptoms of erectile dysfunction. Penile implant or prosthesis can help men who have difficulty obtaining or maintaining an erection as well as those who are unable to obtain an erection at all. A penile prosthesis can also help men whose erections are not sufficiently hard enough for intercourse.
The penile implant works well when medications such as Viagra and Cialis do not work. The penile prosthesis also works when penile injections do not work.
A penile implant is a surgical procedure that is performed as a same-day procedure or may require a 1-2 day overnight stay. The penile implant restores erectile function by replacing the non-functioning erection tissue in the penis with a penile prosthesis.
How Satisfied are Men Treated for ED with Penile Prosthesis?
Most men who choose a penile implant for the treatment of erectile dysfunction are highly satisfied with outcomes. Penile prosthesis allows men to get and maintain firm erections whenever they have a desire reliably and without medications. A penile implant does not change sensation. Men are able to ejaculate as they normally do.
How Can I Get a Penile Implant?
The first step is to schedule an appointment to discuss your erection problems and to determine if the penile prosthesis is a good treatment option for you.
Cost and Insurance Coverage for Penile Implant
Most insurances consider penile implant a medically necessary treatment for erectile dysfunction. Some plans may cover a penile implant in some situations but not in others. Most health plans cover the cost of a penile implant after treatment for prostate cancer, or pelvic surgery.
Most insurances cover the costs of treatment with a penile implant. We perform benefit verification, preauthorization of the surgery with insurance companies, and appeal unfavorable decisions by insurance companies.
For men without insurance, affordable prices are offered. The cost of a penile implant includes 3 components: (1) surgeon's fee, (2) the cost of the implant and surgical room fee, and (3) anesthesia fee.
Is Penile Implant Visible? Can Someone Tell if I Have Penile Implant
A penile implant is placed under the skin of the penis. When a 3-piece inflatable penile implant is not used and not inflated, no one will know that you have it. It does not protrude from pants when deflated.
When a penile implant is inflated before sex, the penis looks erect similar to a normal erection. Looking at the penis, one cannot tell if it is a natural erection or if the erection was achieved with a penile implant.
Who is a Good Candidate for Penile Implant?
Any man with erectile dysfunction that does not respond to medical treatment (medications such as Viagra, Cialis, Levitra, and Stendra do not work well) is a candidate for penile prosthesis insertion. While it is not very common for younger men (men under age 30) to have penile implants, some younger men for whom other options do not work choose to get a penile implant. There is no age limit for the penile implant. We have performed penile implants for men in their 30's and 80's.
Men with erectile dysfunction after radical prostatectomy are also candidates for a penile implant. Men with high blood pressure, obesity, low testosterone, heart problems, stroke, and neurological problems are also candidates for a penile prosthesis.
Who Performs Penile Implants?
Less than 10% of urologists routinely do penile implant surgery. At New York Urology Specialists, Dr. Alex Shteynshlyuger is an experienced urologist who is a specialist in penile implant surgery for men. Schedule a consultation to see if a penile implant is a right treatment for your erection problems.
Schedule an Appointment with Dr. Shteynshlyuger:
Call/text today: (646) 663-5211 or make an appointment online
Dr. Alex Shteynshlyuger is a fellowship-trained board-certified urologist with expertise in treating ED with a penile prosthesis. If you or someone you know has been experiencing urological symptoms, make an appointment to take advantage of Dr. Shteynshlyuger's expert advice. Please feel free to Contact Us with any questions.
Does a Penile Implant Affect Sensation and Orgasm?
Penile implant only 'corrects' the problem of getting an erection. It allows a man to get a hard erection that is sufficient for sexual intercourse. Penile prosthesis insertion does not affect sensation or orgasm. If a man has normal feeling and sensation in the penis before penis implant surgery, usually he will have the same sensation after penile prosthesis. The penile prosthesis will not give you sensation if you normally do not have it.
A penile prosthesis does not increase or decrease the ability of a man to have an orgasm.
Penile implant is an effective treatment option for men with erectile dysfunction.
Cost of penile implant surgery is usually covered by medical insurance.
Is Penile Implant the same as Penile Pump?
Usually, a penile pump refers to a Vacuum Erection Device (VED) which is different from the penile implant. Some patients refer to a penile implant as a penile pump. It is important to understand that there are two types of treatment for ED that are very different: a vacuum erection device and inflatable penile implant (prosthesis).
What are the Different Types of Penile Implants Available?
In the United States, there are two companies that are FDA-approved to make and sell penile implants: AMS and Coloplast. Both companies offer high-quality devices with good patient satisfaction.
There are 3 types of implants that are available:
3-piece inflatable penile prosthesis that consists of penile implants, pump, and reservoir. This is considered the best available type of penile implant for most men and includes AMS-700 and Coloplast Titan
2 piece inflatable penile prosthesis that consists of a penile implant and a pump. Unlike a 3-piece prosthesis, it does not have a reservoir.
Malleable (Semi-Rigid or "Concealable") penile implant: is a non-inflatable prosthesis that is very simple to use. Malleable implants such as AMS Spectra and Coloplast Genesis is a good option for men who desire simplicity and ease of use. In particular, a semi-rigid penis implant is the preferred option for men with diminished ability to perform fine motor movements with their hands.
We use AMS 700™ Inflatable 3-piece Penile Prosthesis for many patients. AMS Ambicor Inflatable Penile Prosthesis is a 2 piece inflatable penile implant without a reservoir. Spectra Concealable Penile Prosthesis is a malleable (semi-rigid) penile implant.
Coloplast penile prostheses include the Titan Touch inflatable penile prosthesis and Genesis Malleable penile prosthesis.
Learn More About:
What You Need to Know:
---
If you have any questions, to schedule a consultation or if you need a second opinion, please contact us or call 1-(646) 663-5211.
---
Why Choosing New York Urology Specialists for Your Penile Implant is a Smart Choice.
Board Certified Urologist
Evidence-Based Medicine based on Cutting-Edge Medical Research
Fellowship Trained Urologist
Highly acclaimed and internationally recognized urologists
Top Erectile Dysfunction Specialist in the New York Region
High patient satisfaction and reviews.
Patient review
by

Jose A La Luz

on Jan 24, 2020
Peronis Disease
by

Robert Clarke

on Aug 04, 2019
Dr Alex was both knowledgeable and concise with his diagnosis and advice which was well received. Dr was her knowledgeable in the subject and provided good advice.
3P Removal
by

Karl Henry

on Jul 24, 2019
Went to get my penile papule remove. Got done same day, it was fast, great staff, and most importantly, pleased with the result.
Urology Visit
by

Oliver

on Jul 18, 2019
Staff were all very welcoming. Dr. Alex Shteynshlyuger was very knowledgeable and attentive during my time spent with him.
Recommendation
by

JOHN

on Jul 18, 2019
Therefore I would like to recommend you to anyone who need your services.
Outstanding
by

Allan B.

on Jul 09, 2019
Went in for a procedure with Dr. Alex and he was very calm and thorough about the the operation and the recovery. From the front desk to his assistants, everyone was very courteous, professional and polite. I highly recommend NY Urologist Specialist. They are outstanding!!!
Satisfied Patient
by

Winston

on Sep 15, 2018
I am very please and satisfied with everything that has been offorded to me by New York Urology Specialist Office.....Dr Alex
Friendly , courteous, effiecient and professional
by

Wyts

on Sep 15, 2018
Wyts Wyts recommends New York Urology Specialists via Facebook. September 15, 2018 · Friendly , courteous, effiecient and professional staff members. This office i highly recommend for any and all Urology matters. Dr Alex Shteynshlyuger is very professional and knowledgable easy to communicate with. Thanks Dr Alex
Surgical Procedure
by

Lee St. James

on Sep 01, 2018
Dr Alex and his staff are through professionals in every sense of the word. From initial diagnosis to a period of evaluating and ruling out options, we decided upon a surgical solution, which appears for the most part to have corrected the issue. Thanks to Ana, and the staff, especially Dr. Alex for treating me so well. Best regards, Lee
Review
by

Christopher cato

on Aug 16, 2018
Outstanding service
A very good doctor
by

Andrei

on Aug 15, 2018
Dr. Alex Shteynshlyugerand is careful, patient, experienced. Uses innovative approaches, that actually yield results. He is indeed a good doctor, in every sense
urology services
by

juanito creque

on Apr 11, 2018
I am very satisfied with the treatment I received at new york urology specialist and would recommend them to other patients.they are the very best.
My wife was elated
by

JD

on Jan 15, 2018
Well I put it to use last night and man, good job. My wife was elated. u made it much better somehow, so thank u for fixing my penis
Thankful
by

Jacob

on Dec 05, 2017
"Cannot express how thankful I am I found Dr. Shtetnshlyuger. After undergoing surgery to correct a penile torsion I couldn't be happier with the results. A great doctor who is clearly good at what he does. With something as important as your private area, It's nice to be able to rest easy and know you are in good hands.." via HealthGrades.com 12/5/2017
Review
by

Bob Brown

on Nov 19, 2017
I am writing to thank dr. Alex. He is thorough, professional, knowledgeable, helpful and friendly. I have seen him for ED and prostate issues, and he has explained all my options clearly, and found solutions that have been a great help. thank you! I highly recommend both Dr. Alex and his staff, which I find to be helpful, friendly, knowledgeable and very professional. They are a pleasure to deal with and all have been a great help.
Dr visit
by

Clarence Brown

on Sep 14, 2017
I am very much thankful for meeting Dr Alex .I had a very serious medical problem I visited many doctors but none could not help me it was very difficult for me until I visited Dr Alex after a couple visits my medical problem is no more I feel very great also I felt almost 20 years younger Dr Alex is second to none fantastic doctor. Thanks again Dr Alex from my family.
Excellent doctor
by

Michael

on Jul 03, 2014
I am feeling better now after visiting clinic New York urology specialists. Excellent staff and appointment on time.
Thank you for excellent care
by

George & Sally R

on Jan 07, 2013
Dear Dr. Alex: We want to thank you for the excellent care you provided for George during his emergency operation and the follow up treatment. Your quiet, confident manner was reassuring to us during a very scary time for us. We will never forget you. George Sally R. Date: 2013
We love you!
by

Joyce T

on Feb 16, 2012
Dr. Alex Shteynshlyuger and Staff – Thank you so much for taking care of my husband Bob. Dr. Alex: I thank God everyday for you. You were an answer to prayer.
This post is also available in: Russian Arabic Chinese (Simplified) Japanese Spanish