Cuidados de Urología para Hombres y Mujeres en Nueva York
---
Si tiene alguna pregunta, desea programar una consulta o si necesita una segunda opinión, por favor contacte con nosotros o llame al 1 (646) 663-4486.
---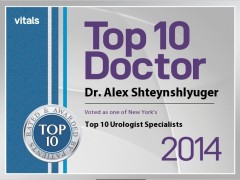 Cuando usted necesite a un urólogo experimentado, nuestros más experimentados y mejores médicos estarán preparados para ayudarle. Nuestros urólogos contestarán a sus preguntas y le ayudarán a elegir el mejor tratamiento posible y adecuado para usted.
Los urólogos certificados de New York Urology Specialists están listos para intervenir y proporcionarles la mejor atención médica mundial para sus necesidades urológicas. Nuestra filosofía se basa en el enfoque personalizado a cada paciente junto con los últimos conocimientos médicos e innovaciones. Nos especializamos en proveer cuidados a hombres y mujeres con necesidades urológicas complejas. También ofrecemos segundas y terceras opiniones a los pacientes que no se han beneficiado de un enfoque a la medicina no prescriptivo y que requieren un plan individualizado de atención urológica. Por favor no dude en ponerse en contacto con nosotros si tiene cualquier pregunta.
Cuidados de Urología para Hombres y Mujeres
En New York Urology Specialists, le invitamos a experimentar el más alto estándar en atención urológica. Desde la cirugía robótica a los tratamientos más eficaces para la vejiga y los cánceres de próstata, superamos a los referentes nacionales de calidad en beneficio de nuestros pacientes.
Urólogo Certificado
Medicina Basada en la Evidencia y en la Investigación Médica de Vanguardia
Especialización Clínica en Urología
Urólogos aclamados y reconocidos internacionalmente
Excelente Consulta de Urología en la región de Nueva York
"El éxito del tratamiento es el resultado de un refinamiento deliberado en el enfoque a cada paciente, basado en la mejor ciencia disponible y en nuestra extensa experiencia." Dr. Alex
Urólogos Certificados en la ciudad de Nueva York
Nuestra Urólogo Certificado tiene más de 10 años de experiencia proporcionando cuidados de urología a algunos de los pacientes más complejos con múltiples problemas médicos, además de problemas urológicos como la diabetes, cardiopatías, embolias, ataques al corazón, hipertensión, esclerosis múltiple, EPOC enfermedad pulmonar (neumopatía) obstructiva crónica (COPD, por sus siglas en inglés) y asma, apnea del sueño, alto colesterol y obesidad, cáncer de colon,
[insert_postsquery_type="pages" pages="51″ num="1″ display_style="list-big" excerpt_length="415″ hide_meta="true"]
Programar una cita con el Dr. Shteynshlyuger:
Llame hoy: (646) 663-4477 o pida cita online
El Dr. Alex Shteynshlyuger es un urólogo certificado con experiencia en la evaluación y tratamiento de problemas urológicos en hombres y mujeres, y utiliza métodos modernos para un tratamiento eficaz y probado. Es un especialista muy recomendado por los mejores médicos de atención primaria del área de Nueva York. Si usted o alguien a quien usted conoce ha estado experimentando síntomas urológicos, pida cita para beneficiarse de la asesoría del Dr. Shteynshlyuger. Por favor no dude en ponerse en contacto con nosotros si tiene cualquier pregunta.
¿ No tiene seguro? No hay problema!
Ofrecemos precios asequibles ycon opciones de financiación.
¿Quiere saber más? Lea ¿qué es la urología y qué tratan los urólogos?
Hombres & Mujeres: Atención Urológica en la ciudad de Nueva York
Consultas en Manhattan y Brooklyn con fácil acceso para los pacientes de Long Island, Queens, Bronx, Nueva Jersey y Staten Island.
Quistes renales y masas
Aención integral multidisciplinaria para los cánceres urológicos de los riñones, las glándulas suprarrenales, uréter, vejiga, próstata y testículo.
Tratamiento de estenosis uretral
Síntomas dolorosos (orquialgia crónica, dolor pélvico, dolor de la vejiga, dolor de espalda)
Pruebas y tratamiento para las ETS (Virus del Papiloma Humano, Gonorrea, Clamidia, Herpes, Mycoplasma, Trichomonas, verrugas genitales).
Urólogo excelente para Hombres en Nueva York
Próstata agrandada, hipertrofia prostática benigna (BPH), trastornos de la próstata
Disfunción eréctil / Problemas sexuales
Tratamiento para el cáncer de próstata (prostatectomía robótica, radioterapia IMRT, vigilancia activa, terapia hormonal y quimioterapia)
Tratamiento para la enfermedad de Peyronie (inyecciones, plicatura, prótesis peneana )
Tratamiento de estenosis uretral
Cirugía robótica y abierta para la Próstata, Vejiga y Riñones incluyendo RALP y nefrectomía parcial
El Mejor Urólogo para las Necesidades de las Mujeres en Nueva York
Vejiga hiperactiva
Cistitis Intersticial y Dolor Pélvico Crónico
Cuidados para los Cálculo Renales (litotricia, ureteroscopia, litotricia con láser, PCNL)
Cirugía robótica para el cáncer de vejiga, cáncer de riñón inclusivela nefrectomía parcial
Cirugía para la incontinencia urinaria incluyendo el cabestrillo uretral y prolapso vesical
Por qué Elegir a los Urólogos de New York Urology Specialists es una Elección Inteligente
Urólogo Certificado
Medicina basada en los últimos Avances de la Investigación
Urólogos aclamados y reconocidos internacionalmente
Los Mejores Especialistas en DIsfunción Eréctil en la Región de New York
High patient satisfaction and reviews.
Patient review
by

Jose A La Luz

on Jan 24, 2020
Buen doctor
by

Marcos perez

on Jan 14, 2020
Muy buen doctor. Y sobre todo el personal muy amable se preocupan por uno buen servicio
Thank you for your hlep
by

Ron

on Dec 10, 2019
Amazing doctor and staff. Thank you!
Peronis Disease
by

Robert Clarke

on Aug 04, 2019
Dr Alex was both knowledgeable and concise with his diagnosis and advice which was well received. Dr was her knowledgeable in the subject and provided good advice.
Review
by

Jim

on Jul 26, 2019
The staff are very friendly and efficient. Appointment ease is excellent. Dr. S. is terrific diagnostician, answers your questions quickly tries to assess how you are doing and focus on the purpose(s) of our visit Treatment alternatives are discussed . The longer you are a patient, the better the experience is.
3P Removal
by

Karl Henry

on Jul 24, 2019
Went to get my penile papule remove. Got done same day, it was fast, great staff, and most importantly, pleased with the result.
Recommendation
by

JOHN

on Jul 18, 2019
Therefore I would like to recommend you to anyone who need your services.
Urology Visit
by

Oliver

on Jul 18, 2019
Staff were all very welcoming. Dr. Alex Shteynshlyuger was very knowledgeable and attentive during my time spent with him.
Review
by

Michael H.

on Jul 15, 2019
I was very satisfied with the rezum surgery.
Outstanding
by

Allan B.

on Jul 09, 2019
Went in for a procedure with Dr. Alex and he was very calm and thorough about the the operation and the recovery. From the front desk to his assistants, everyone was very courteous, professional and polite. I highly recommend NY Urologist Specialist. They are outstanding!!!
Care at NY Urology Specialists
by

Charles Thompson

on Jul 06, 2019
I am a 54 year-old male who is extremely happy with my care at New York Urology Specialists. I came to see Dr. Alex out of near desperation after consulting with three other urologists. Literally over one night, I began experiencing severe penile pain and burning. None of the other urologists were able to help diagnose what my problem was and seemingly didn't take my problem very seriously. In fact, one of them specifically told me at it had nothing to do with my prostate. After 6 weeks of suffering, I saw Dr. Alex. He examined me and gave me some tests and lab work. He very quickly ascertained that my problem was due to an enlarged prostate. He proscribed medicine to deal with my pain in the short-term and keep my prostate size in check over the long-term. My problem quickly disappeared. Today, 5 years later, I feel great. Dr, Alex listens to you as a patient, takes your opinion and health concerns seriously and knows his field inside-and-out so that you can get proper treatment for your problem. I can't thank him enough for diagnosing and solving my malady - you sometimes can't appreciate a problem until you have it. Getting rid of it and getting back to normal is so important - I am so glad that I saw Dr. Alex for my problem.
Highly grateful
by

HealthGrades.com

on Jun 18, 2019
Dr. Shteynshlyuger is a very patient, understanding and caring doctor. I came to take opinion on my father's treatment going on in my home country. Highly satisfied from his responses. He even responded to so many of my queries through patient portal . Highly grateful.
Professional staff as well as the Doctor
by

HealthGrades.com

on Jun 18, 2019
Professional staff as well as the Doctor
review
by

Paul Odems

on Mar 27, 2019
GREAT ENVIRONMENT AND STAFF
Great follow ups
by

Tara

on Mar 17, 2019
Overall, I am happy with the services provided by Dr. Alex and his office staff. They are second to none when regarding follow-ups and getting back to you promptly, which is definitely not always the case with specialists. Furthermore, living abroad, he has offered to continue to treat me via skype and through email, which has been hugely helpful considering the medical care where I live is not as comprehensive as in the United States.
Review
by

Monique

on Jan 28, 2019
Absolutely amazing!
My experience
by

Joseph Waddy

on Nov 08, 2018
I had a Rezum procedure done a couple of months ago and now my symptoms have improved and quality of life has significantly changed. The Doctor and staff are excellent and I am very satisfied with the services - the surgery and post care. Would highly recommend Dr. Shteynshlyuger.
Rezum procedure
by

Joseph Waddy

on Oct 24, 2018
I have been a patient of another Urologist for years, with no positive results. Then I learned about Dr. Alex Shteynshlyuger through a TV newscast. I immediately decided to have a consultation with him. Best decision I ever made!!! Dr. Alex performed the Rezum procedure and has literally changed my life. I highly recommend Dr. Alex and his staff to anyone who wants the most caring, capable and result oriented urological medical care. Thumbs up to Dr. Alex and staff!!!!!!!!!
First class Surgeon & staff
by

DAM BEN STANTON

on Sep 24, 2018
From the very appointment to the last follow-up visit, I felt I was at the right place and with the right people around me. Dr. Alex Stheynshlyuger and his staff made it easy and confortable. I would recommend them to every man.
Friendly , courteous, effiecient and professional
by

Wyts

on Sep 15, 2018
Wyts Wyts recommends New York Urology Specialists via Facebook. September 15, 2018 · Friendly , courteous, effiecient and professional staff members. This office i highly recommend for any and all Urology matters. Dr Alex Shteynshlyuger is very professional and knowledgable easy to communicate with. Thanks Dr Alex
Satisfied Patient
by

Winston

on Sep 15, 2018
I am very please and satisfied with everything that has been offorded to me by New York Urology Specialist Office.....Dr Alex
Surgical Procedure
by

Lee St. James

on Sep 01, 2018
Dr Alex and his staff are through professionals in every sense of the word. From initial diagnosis to a period of evaluating and ruling out options, we decided upon a surgical solution, which appears for the most part to have corrected the issue. Thanks to Ana, and the staff, especially Dr. Alex for treating me so well. Best regards, Lee
Review
by

Christopher cato

on Aug 16, 2018
Outstanding service
A very good doctor
by

Andrei

on Aug 15, 2018
Dr. Alex Shteynshlyugerand is careful, patient, experienced. Uses innovative approaches, that actually yield results. He is indeed a good doctor, in every sense
urology services
by

juanito creque

on Apr 11, 2018
I am very satisfied with the treatment I received at new york urology specialist and would recommend them to other patients.they are the very best.
Excellent doctor
by

Jen R.

on Feb 19, 2018
I saw Dr. Alex for kidney stones. I'm very pleased with the results.
Excellent services. Very knownelge
by

John lothrop

on Jan 31, 2018
We came to New your urologiy specialist from another state for a second opinion . Dr Shteynshlyuger was able to make the diagnosis in his office which was very convenient for the patient. His staff is very knowledgeable and very competent.
My wife was elated
by

JD

on Jan 15, 2018
Well I put it to use last night and man, good job. My wife was elated. u made it much better somehow, so thank u for fixing my penis
Thankful
by

Jacob

on Dec 05, 2017
"Cannot express how thankful I am I found Dr. Shtetnshlyuger. After undergoing surgery to correct a penile torsion I couldn't be happier with the results. A great doctor who is clearly good at what he does. With something as important as your private area, It's nice to be able to rest easy and know you are in good hands.." via HealthGrades.com 12/5/2017
Review
by

Bob Brown

on Nov 19, 2017
I am writing to thank dr. Alex. He is thorough, professional, knowledgeable, helpful and friendly. I have seen him for ED and prostate issues, and he has explained all my options clearly, and found solutions that have been a great help. thank you! I highly recommend both Dr. Alex and his staff, which I find to be helpful, friendly, knowledgeable and very professional. They are a pleasure to deal with and all have been a great help.
Frenulectomy
by

Raymond M.

on Nov 18, 2017
The attention and care that I received were reassuring and superb. My uneasiness was quickly dispelled by the skill and efficiency they demonstrated during the brief procedure. As a result, my comfort and appearance has improved considerably, and I highly value both Dr. Alex and his staff.
Dr visit
by

Clarence Brown

on Sep 14, 2017
I am very much thankful for meeting Dr Alex .I had a very serious medical problem I visited many doctors but none could not help me it was very difficult for me until I visited Dr Alex after a couple visits my medical problem is no more I feel very great also I felt almost 20 years younger Dr Alex is second to none fantastic doctor. Thanks again Dr Alex from my family.
Urination problem
by

Jean

on Aug 25, 2017
Thank you New York Urology Specialists for helping with my problem. The doctor and the staff are great!
Good Dr. who cares about his patients
by

Scott Cameron

on Aug 18, 2017
Received circumcision from Dr. Shteynshlyuger. Dr. Shteynshlyuger is a very good specialist who cares for his patients. He was always concerned with my physical and mental comfort prior, during and post-operation. Dr. Alex is very thorough in his work to assess any problems and provide the necessary solution. Being that he has recently moved to a new location, this may afford for speedier appointments and easier flow of patients in and out. In addition, more personal space for waiting patients. If there was any con, it would be, the lack of space at his prior office and being able to see his patients at the appointed time, but a necessary sacrifice for good, careful work. I would recommend him as a very good doctor.
No scalpel vasectomy
by

Andrew

on Jun 06, 2017
I can't imagine a vasectomy procedure going more smoothly. I was playing tennis 5 days later. He was extremely professional, knowledgeable, and made me feel very comfortable with his great bedside manner. If you're coming to see him or considering seeing him, be rest assured that you're in good hands! Go for no scalpel vasectomy.
Genius
by

Patient

on Jun 04, 2017
" He found my source of testicular pain that was missed by a Urologist from my insurance provider. Although I paid to go out of network- any price is less than testicular pain. He is generous with his time and will not short change anyone for care." via Vitals.com Posted on June 4th, 2017
Worth the wait
by

Richard

on Nov 15, 2014
I went to see Dr. Shteynshlyuger for a second opinion about a urinary problem after having a continuing issue for many months that wasn\'t getting better. He seemed very knowledgeable. I highly recommend him. Cons: If you\'re not the first patient the wait can be LONG.
Thank you
by

Charles M

on Jul 03, 2014
Since starting the [medications], my cramps and burning have mostly gone. The biggest benefit is my leaking has been reduced to the lowest amount in almost 10 years.
Excellent doctor
by

Michael

on Jul 03, 2014
I am feeling better now after visiting clinic New York urology specialists. Excellent staff and appointment on time.
My cramps and burning are gone
by

Charles M

on May 23, 2013
Dear Dr. Alex – Since starting the [treatment], my cramps and burning have mostly gone. The biggest benefit is my leaking has been reduced to the lowest amount in almost 10 years. Charles M. Date: 2013
Thanks to you
by

John & Pat

on May 16, 2013
Dear Dr. Alex -On behalf of John and myself – Our thanks to you for the care and concern of your help to Jack with his cancer problems. We will miss you & wish you only the best. Sincerely John & Pat Date: 2013
Thank you for excellent care
by

George & Sally R

on Jan 07, 2013
Dear Dr. Alex: We want to thank you for the excellent care you provided for George during his emergency operation and the follow up treatment. Your quiet, confident manner was reassuring to us during a very scary time for us. We will never forget you. George Sally R. Date: 2013
We appreciate all that you did to help my dad
by

Joanne R.

on Sep 17, 2012
Dear Dr. Alex – I just wanted to write you a note to thank you for all of the care you have gave to my father during his illness. We appreciate all that you did to help my dad through his illness. We wanted to be sure to let you know how much it meant to us. Sincerely Joanne R.
We love you!
by

Joyce T

on Feb 16, 2012
Dr. Alex Shteynshlyuger and Staff – Thank you so much for taking care of my husband Bob. Dr. Alex: I thank God everyday for you. You were an answer to prayer.
This post is also available in: Inglés Ruso Chino simplificado