Testicular Prosthesis Surgery
---
If you have any questions, to schedule a consultation or if you need a second opinion, please contact us or call 1-212-204-6300
---
When Can Testicular Prosthesis Be Inserted?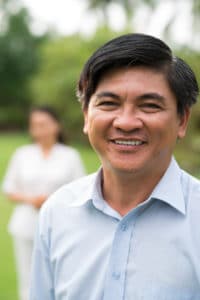 The testicular prosthesis or implant is typically placed either as a separate procedure in men who have lost one or two testicles to such conditions as testicular torsion, testicular cancer, undescended testicle or who have undergone orchiectomy for any other reason such as treatment for prostate cancer, testicular pain or testicular trauma. Very rarely severe testicular infection such as tuberculosis can necessitate the removal of a testicle. Men who were born without a testis can also have a testicular implant placed in the scrotum.
Testicular implant or prosthesis can also be placed simultaneously during the procedure that removes the native testicle (orchiectomy). We know that it is safe to place a testicular implant at the same time of orchiectomy for men with testicular cancer, testicular torsion and other conditions that necessitate orchiectomy. The only exception when a testicular implant cannot be placed simultaneously with the removal of the testicle is when the testicle is removed for treatment of a severe infection which is very rare.
Surgery for Testicular Prosthesis
There are a few different approaches to testicular procedures implantation. Most commonly, testicular prosthesis this is placed through a scrotal, sub-inguinal or inguinal incision. The choice of incision is guided partially by anatomy as well as by the situation.
If a testicular prosthesis is implanted at the time of orchiectomy (removal of the testicle), the implant is placed through the same incision. When orchiectomy is performed for treatment of testicular cancer, an inguinal incision is usually made.
When a testicular implant is placed as an elective procedure, often a scrotal incision is used. However in patients with undeveloped hemi-scrotum (scrotum that has not developed on the side of the missing testicle), and a low inguinal or sub-inguinal incision is often chosen which allows more flexibility in the placement of the testicular procedures this in an ideal low scrotal location.
I prefer a sub-inguinal location of the incision to minimize the risk of infection and testicular implant extrusion. This also keeps the scrotum and the testicular prosthesis away from the incision site.
You can view images in our photo gallery that show an example of a sub-inguinal incision used for testicular implantation.
---
If you have any questions about testicular implant treatment, schedule a consultation, contact us or call 1-(212) 204-6300. We have excellent reviews from patients and their partners.
We offer affordable, highest-quality urology care with or without insurance. Find out our office hours or directions to our office. We offer weekday, weekend and evening office hours.
Dr. Alex Shteynshlyuger is a board-certified urologist, who specializes in all aspects of care for sexual problems in men including ED, premature ejaculation and other sexual concerns. He has successfully treated hundreds of men with sexual problems including ED and poor libido.
---
One Missing Testicle is Treatable in Nearly Every Man

At New York Urology Specialists, our urologists are specially trained in the evaluation and treatment of a missing testicle or absence of two testes. We understand the challenges that a missing testicle creates for our patients, their relationships and their self-esteem. We help you find a treatment for erectile dysfunction that fits your needs, your lifestyle and your preferences.
Urologists are doctors specializing in the treatment of men with erectile dysfunction. By the virtue of our experience and skill, we are able to offer an effective treatment option for nearly every man who desires an effective treatment for ED. We offer medical and surgical treatment for erectile dysfunction.
We Treat Some of the Most Complex Health Problems in Men Including:
Schedule an Appointment with Dr. Shteynshlyuger:
Call today: 212-204-6300 or make an appointment online
Dr. Alex Shteynshlyuger is a fellowship trained board-certified urologist with expertise in evaluation and treatment of urological problems in men using modern effective and proven treatment methods. He is highly recommended by top primary care physicians in the New York area. If you or someone you know has been experiencing urological symptoms, make an appointment to take advantage of Dr. Shteynshlyuger's expert advice. Please feel free to contact us with any questions.